Dylan Thomas and his rural Carmarthenshire Roots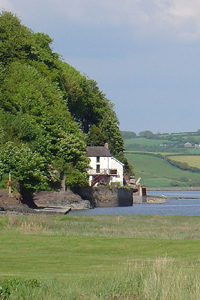 2014 saw centenary celebrations marking the birth of renown wordsmith Dylan Thomas. This reminded us all of his family roots in the rural Carmarthenshire that is home to our award-winning artisan cheeses. For it was at Boksburg Hall, headquarters of the Carmarthenshire Cheese Company, that three of his mother's cousins, worked a traditional dairy farm.
It is just such Carmarthenshire dairy farms that supply the milk used by the thriving artisan cheesemakers.
Dylan's namesake, David N.Thomas in a biographical study 'Dylan Thomas - A True Childhood' states: "In Dylan's time, Boksburg Hall was a dairy farm worked by three of his mother's cousins, John, Jane and Theodosia Francis, formerly of Dolaumeinion farm, Llangain. DJ's parents and a sister are buried in the churchyard, so a visit to the Hall after tending the grave would have brought the young Dylan a glass of milk and a slice of cheese from the Boksburg dairy." The DJ referred to was the poet's father D J Thomas, who had been born and brought up around Llangain, as had Dylan's maternal grandfather, George Williams.
Just a few miles from the Carmarthenshire Cheese Company base is the simple but now famous Writing Shed above the boathouse on the Taw estuary where the young Dylan Thomas created some of his most famous verses. The Boathouse tearoom provides a welcome respite for walkers tackling the newly launched Wales Coast Path. As well as the tearoom, there is a furnished front parlour, an upstairs exhibition area showing a 24 minute film, a shop and toilet facilities.