A fascinating visitor attraction in Whitehaven is The Rum Story, it brings to life the town's historical links with the Caribbean, based on the Jefferson's, the oldest UK family of rum traders. The old 18th century wine and spirits warehouses and frontage have been lovingly restored.The entrance to the attraction leads into two courtyard areas, covered over with a glass roof.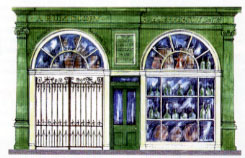 A labyrinth of former cellars, and huge binded warehouses have been restored for the centre. In October the centre boated over 15,000 visitors since its launch in May 2000.
In the first area, which features a kinetic clock are the gift shop and cafe and in the second courtyard visitors find themselves in a tropical rainforest leading to the entrance to the main exhibition area. It is hoped the sign directing customers to the Bottle Sales Office will be retained for authenticity. Part of the old bonded rum warehouses with massive stone barrel vaults will be available for functions and corporate hospitality. In the courtyard adjacent to the bonded warehouse a lift is being installed to allow access for the disabled to all levels of the exhibition.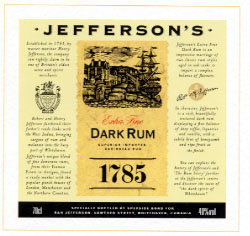 Inside the rum experience you'll find about .....
Bold English sea traders who risked their lives and their life savings to make their fortunes from sugar and rum...
But you also learn of the evil slave trade they
shared in.
See the Caribbean ranforest, American prohibition, rum and its links with the Royal Navy, how rum is made, rum recipes and much more...
Rum Centre web site, Official Rum Centre web site....
IN an amazing stroke of luck, an old ship's log relating to a Whitehaven rum trade vessel has been tracked down and bought for the new rum centre. The historic documents that chart the voyages of the sailing brig British Queen, which belonged to Jeffer-son's wine merchants and carried sugar and rum to the Georgian port during the 19th century, have been acquired by W3M, the trust set up to run the £3million rum centre in conjunction with Cumbria County Council's archive service.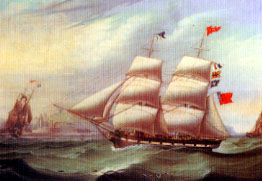 And the find is all the more important because the trust has recently acquired - from a Sotheby's auction - an old oil painting of the ship, entitled The brig British Queen off the coast of Whitehaven. Now there are plans for the painting and log to be united in a display as part of the Lowther Street rum exhibition, The Dark Spirit of Whitehaven. The painting by Oliver Ussison Hodgson (1810-1878), was bought for £9,755 in July. The artist studied under John Clementson and was born in Whitehaven.
The ship's log was discovered by Terry Ponting, of the Whitehaven Develop-ment Company, while trying to trace items of interest relating to the town's historic rum trade. It seems a London collector had bought a bundle of documents from a Phillips auction at Carlisle around 10 years ago and, as he was mainly interested in stamps, he had sold them on to an individual who dealt in historic documents relating to the wine trade. Mr Ponting said: "There was acres of material - ships ledgers, business papers, production figures for sugar plantations, indentures for slaves, lists of slaves, but among them I spotted a ship's log relating to the British Queen and it struck a note in my mind that the picture was due to come up for sale. "Once we knew we had got the painting we negotiated to buy the ship's log, anxious to acquire it before its importance was realised.''
Find out more about the Lake District

---
Web pages run by Lakestay
Lakestay E mails