OSPREYS & GOLDEN EAGLES IN THE LAKES

In 2014...The fact that in 2013 there were four pairs of Osprey in the Lake District bodes well for the future and there are plans for a second Osprey viewing point...First female returns in 2014

In 2013 season...Two chicks were raised...Thanks to GPS ringing of the young birds their amazing migrations can be viewed from satelitte readings. In 2013 the male chick reached Cherbourg on its first day flying south from Cumbria. It later that month (September) flew at 1596m at a speed of 57kph, to cover over a thousand miles to cross the Sahara desert.. It safely reached a lake region of Ghana in West Africa. The female young Osprey unfortunately hit a sandstorm and failed to get safely across the Sahara.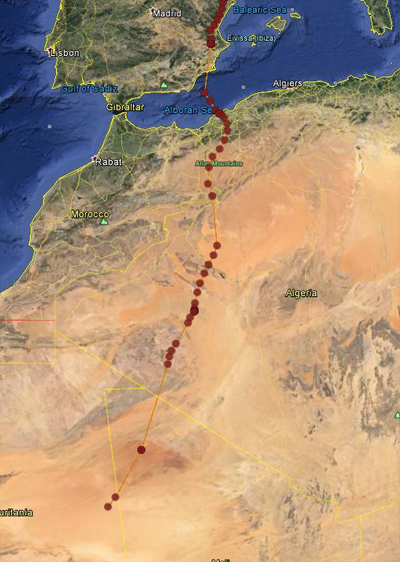 2012
One chick was reared by an Osprey pair at the nest site overlooking Bassenthwaite but other Osprey have come to other secret locations in Cumbria this year and reared chicks. The latest bird, tagged electronically flew south but the transmissions died in Spain and a question mark hangs over the bird's fate.
2009
The Ospreys returned this year and moved to a new nest location at Bassenthwaite. Experts say that it is unusual for a pair of ospreys to move in this way, as a well-established nest is often used by many generations of ospreys, with some nests known to have been in use for more than 100 years. It is thought the arrival of an extra female may have caused the move. Meanwhile one of the Bassenthwaite osprey chicks from a previous season has now arrived at Leighton Moss RSPB Nature Reserve, near Carnforth.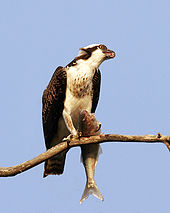 The Lake District Osprey Project team are celebrating the arrival of this year's first osprey chicks (May 24 2009)at the nest on the east side of Bassenthwaite Lake, near Keswick.
The proud osprey parents are now busy nurturing two young birds. The female osprey is known to have laid three eggs but, as they were laid several days apart and will hatch at different times, it will be some time before the project team know exactly how many have hatched.
There is a public viewing area at Dodd Wood on the Carlisle road north of Keswick. The Osprey watch is a booming tourism 'hot spot' Find out more at http://www.ospreywatch.co.uk/
2007...Both a male and female Osprey have returned to Bass in late April 2007....Forestry Commission wildlife rangers are starting work on an undercover mission to attract more Ospreys to new locations in Cumbria.
A number of potential new breeding sites have been identified at secret locations around the county and will undergo a dramatic face-lift in the coming weeks to offer more ospreys a variety of attractive and secluded nest sites. Further information on the Lake District Osprey Project is available at www.ospreywatch.co.uk
2006....Three chicks have hatched out in the osprey nest at Bassenthwaite over the Bank Holiday Weekend, a delighted Lake District Osprey Project team announced today (Tuesday 30 May 2006). It's the first time that three eggs have successfully hatched in the nest since the birds arrived to nest in Cumbria in 2001.
The first two chicks hatched out within a few hours of each other on Friday night and Saturday morning, the third chick hatched out on Monday afternoon. The ospreys have hatched out twins in 2002 and 2005, but until today they have never had triplets!
In 2001 the sea eagles or Ospreys successfull reared a chick for the first time in England for 150 years. July 2005 One of two recently-hatched osprey chicks has taken its first flight from a pine tree nest in the Lake District.
The youngster's maiden flight took place on Friday afternoon and was watched by visitors at the Osprey Viewpoint at Dodd Wood, near Keswick

In July 2004 the Lake District's latest osprey chick has taken to the air. The chick, which was hatched in the nesting site near Keswick earlier this summer, is the latest addition to this family.

The ospreys are drawing the crowds to Cumbria and an estimated 23,000 visits have already been made to the Viewpoint at Dodd Wood. Around 40,000 visits have also been made to the Forestry Commission's Whinlatter Visitor Centre where in a "Big Brother"-style operation, a nest cam. is beaming back pictures to tv screens.
It was in 1998 that the Forestry Commission erected nesting platforms after the birds had been seen summering around Bassenthwaite Lake. Once it was seen that the birds were incubating eggs a 24 hour watch was kept using staff from the Lake District Planning Authority, Forestry Commission and RSPB. Even the local police helped in being ready to deter egg collectors. The birds successfully hatched. The subsequent arrival of hundreds of twitchers ( or bird enthusiasts) to see them feeding in the Lake was a boost to tourism
The public viewing area is near the Dodds Wood centre, two miles north of Keswick. Parking is £2 and the view point has high powered binoculars..but be warned the birds nest is over a mile away across Bassenthwaite.

Golden Eagles
Further east in the Lakes England's only nesting golden eagles have failed to breed in 2002 The five-month breeding season for the golden eagles which nest near Haweswater came to an end in September. A pair have been nesting at the remote Haweswater Reserve since 1969. This year (2002) did see arrival of a new male to join the female who has been in the rocky Riggindale valley, Haweswater since 1982. The last successful hatching was in 1996.