Beatrix Potter

Although born in London in 1866, Beatrix married and moved to Cumbria, where she created her famous characters. Helen Beatrix Potter (28 July 1866 – 22 December 1943)
She spent her last few decades extending her farm property and raising Herdwick sheep before her death in 1943, aged 77. Potter created around 20 well-loved children's tales involving a host of animal characters including Benjamin Bunny, Jemima Puddle-Duck, and Mrs Tiggy-Winkle. She was born in 1866 in South Kensington, London, and she initially published her first book Peter Rabbit herself before finding a publisher.
Although the flower gardens slope down to the shore of Derwenwater it was the intimate enclosed kitchen garden that most attracted Beatrix Potter's eye.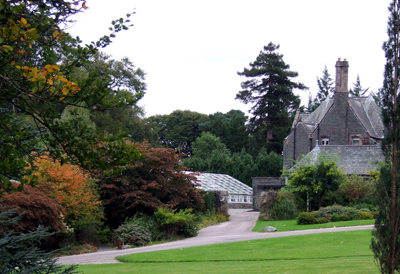 Overlooking Derwentwater Lake near Keswick are many of the settings for the Beatrix Potter tales. At Lingholm (pictured right) are the vegetable gardens where mr McGregor had to chase Peter the Rabbit for nibbling carrots.
Also at nearby Fawe Park many of the trees and their entwining roots being painted in the Potter illustrations.
To glimpse the gardens that Beatrix Potter painted there is a public right of way that starts behind the Nichol End Marine at Portinscale. This rises up the slight hill and crosses the private drive to Fawe Park and carries on outside the Park fence. But the grounds of Fawe and Lingholm are private.
This and other walks around Derwentwater are well illustrated in an excellent book, Beatrix Potter's Derwentwater, published by Leading Edge, ISBN 0 948135573.


In 2005 there was concern as the National Trust considered splitting up her former hill farm.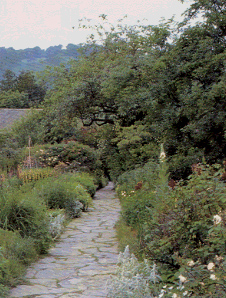 The author bequethed High Yewdale, in Coniston, to the National Trust in 1943, when she died and it is a fully working farm.In her will, Potter left almost all of her property to the National Trust — 4,000 acres (16 km²) of land, cottages, and 15 farms.
But to ensure its economic future, the Trust is putting it up for let as an agricultural business or dwelling.
Protestors claim the move will threaten the tradition of farming it the area.
The Trust is also planning to divide High Yewdale's land between three neighbouring farms.
Beatrix Potter is among the most searched terms on the internet, especially for US and Japanese tourists and the film made in 2006 raised awareness of the illustrator to new heights. 'Miss Potter', a biographical film starring Renée Zellweger, was released on 29 December 2006.
Contact: Beatrix Potter Gallery, Tel: 015394 36355 & Hill Top House Tel: 015394 36269 .
Full details of Beatrix Potter's life.
---
Lakestay home page | Where to stay in the Lakes | What to do and see in the Lakes | Lakestay E mails