The Whitehaven Maritime Festival Movers and Shakers
The Festivals are the work of enthusiastic volunteers with help from council and industry backers.
Contact points include :Richardsons Wines, Lowther Street, Whitehaven and Copeland Council
The 2007 Festival was sponsored by (among others) : Eddie Stobart is the UK's largest independent logistics company.

Energy Solutions, Washington Group International, The Whitehaven News, Whitehaven Harbour Commissioners, Richardsons of Whitehaven Ltd, Gough&Co Solicitors, Fluor
CNSL (Cumbria Nuclear Solutions Ltd). Also local authority and state-funded nuclear agencies.

The 2001 Maritime Festival had the following backers: Cumbria County Council, W3M, Copeland Council, Richardsons Wines, North West Water, UCB films. The Festival committee is now headed by BNFL's former Sellafield Director, Grahame Smith.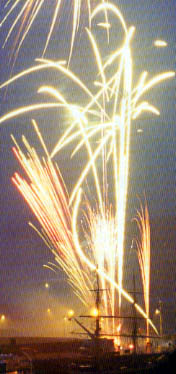 Whitehaven Development Company and W3M
27 Lowther Street, Whitehaven, Cumbria CA28 7DN
Tel. 01946 592933. fax 01946 590595
E Mails mailto:terry@w3m.org.uk
The Rosehill Theatre
Moresby, Whitehaven.
Tel. 01946 692422

Copeland Council
Catherine Street
Whitehaven
Tel. 01946 852585
Web: Copeland Council

The Whitehaven News
Web: Whitehaven News

For the 2003 event bookings were handled by:
Rhythm of Life,
King Street,
Carlisle,
CA1 1SJ;
Telephone 01228 515141;
fax 01228 515161;
email lennie@rhythm.co.uk
---
Web site and free promotion by Lakestay