St Bega's Way and other Long Distance Walks
FOR those who think that the Cross-England Walk is too strenuous and other long distance walks are simply too long, help is at hand. What is described as a short long-distance walk has been suggested and an extremely clear and attractive booklet has been published, not only to explain the route but to give comments on what can be seen on the way.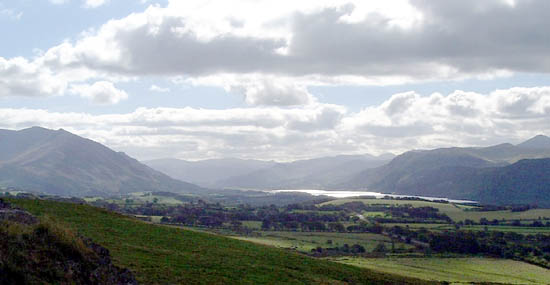 St Bega's Way has been written by Rosalinde Downing and contains many attractive sketches, with more than a hint of Wainwright about them, by Alistair Brewis. The walk will take you from the ancient Priory at St Bees to the preNorman church of St Bega's at Bassenthwaite.
St Bega's Way follows in some of Wainwright's footsteps taking the easier route from St Bees to Ennerdale, then up the Ennerdale valley crossing into Borrowdale and on to St Bega's Bassenthwaite via Derwentwater. This is a three day walk, a mere 36 miles, from rural West Cumbria through to one of the most delightful parts of the Lake District. On the way you can find out about the legend of St Bega, both churches are dedicated to the saint, and learn about amongst many other things, the origin of the word Kangol, the curious inscription on the bell of St Mary's Church at Ennerdale and where to look out for two large wooden hands.
This walk would be an excellent way to spend a long weekend giving you a chance to forget some problems and lose a pound or two. As it says in the introduction of the booklet "Time to think, away from the commitments of home and work, surroundings of outstanding natural beauty, and locations of deep spiritual significance, all give tourists and especially walkers, the opportunity to become pilgrims ....... Whether seeking or committed to the Christian or another faith or none, it is still likely that you will get more out of this walk than mere healthy exercise. The long histories of the churches and the development of their architecture may interest or inspire you. The charm and romance of St Bega's story may delight you. The glories of the natural world will undoubtedly lift your spirits whether you see them bathed in sunshine or battle through them against the elements. I hope too that when you reach the end of your journey you will be thrilled by the unique and dramatic setting of St Bega's at Bassenthwaite".
The booklet is published by the Credo Appeal Committee Bassenthwaite PCC and costs £4.50 including postage. Available from Ros Downing, Langside, Bassenthwaite CA12 4QH.
Reviewed by Chris Robson.
Another long distance walk with historic associations is the Cistercian Way (recommended by the Ramblers' Association as
'easy'): 53-kilometre (33-mile) route; start: Grange-over-Sands; follows the
low hills and sands of the Furness and Cartmel peninsulas, ending at Roa
Island. 33miles/53 kms from Grange-over-Sands to Piel Island near Barrow-in-Furness along the paths, tracks and byways of the low limestone hills that fringe the northern shores of Morecambe Bay. Takes 2-3 days. To find out more contact Ulverston TIC Email: ulverstontic@southlakeland.gov.uk
Tel: 01229-587120
The Cumbria Way
This is a multi-day trail, covering 70 miles (113 km) and usually taking 5-6 days.Grade: Medium
Start/Finish: Ulverston and Carlisle; Summary: Can be walked in either direction, but goes through the heart of the Lake District, keeping mostly to valleys. Nothing too strenuous or difficult with lots of heritage interest along the way. Contact: Ulverston Tourist Information Centre, which can send you the free guide to the trail.
Email: ulverstontic@southlakeland.gov.uk
Tel: 01229-587120
Lancaster Canal Walk
27 miles/43 km along the towpath between Lancaster and Kendal with many features and much wildlife to enjoy. Takes about two days. Contact Kendal TIC
Email: kendaltic@southlakeland.gov.uk
Tel: 01539-725758.

The Allerdale Ramble
55 miles/88 kms from Seathwaite in the heart of the Lake District at the head of Borrowdale to Grune Point, Skinburness on the Solway Coast via Derwent Water, Keswick, Bassenthwaite and Maryport. Takes about 3-4 days. Contact Maryport TIC. Email: maryporttic@allerdale.gov.uk
Tel: 01900-813738

Cumbria Coastal Way
124 miles/200 kms around the coastline of Cumbria between Milnthorpe and Carlisle, via the Duddon Estuary, St. Bees Head and the Solway Coast AONB - great bird watching! Takes 8-10 days. Contact Maryport TIC
Email: maryporttic@allerdale.gov.uk
Tel: 01900-813738
The Coast To Coast Walk/
Distance 191 miles/307 kms
Duration 12 - 14 days
Grade Medium
Start St. Bees Head, Cumbria
Finish Robin Hood's Bay, North Yorkshire
Summary A classic walk encouraged by an excellent guide by the late and great Alfred Wainwright (Obtainable at most booksellers). Goes from the Irish Sea to the North Sea incorporating the marvellous scenery of three National Parks – Lake District, Yorkshire Dales and North York Moors. Varied terrain. Good maps essential. Contact Kirkby Stephen Tourist Information Centre, Email: ks.tic@eden.gov.uk
Tel: 017683-71199.

---
Lakestay home page | Where to stay in the Lakes | What to do and see in the Lakes | Lakestay E mails