Uppies and Downies

They all charge through the town in this rough and exciting traditional game that probably goes back to medieval times. But plans by Tesco may impact on the ancient tradition if it proceeds with major shopping developments on the area (The Cloffocks) used for much of the sport.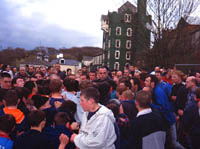 The games take place over several days around Easter.
THE UPPIES are supposed to be those living in the "posh" top part of Workington and the Downies from the town's old fishing quayside or 'marsh'.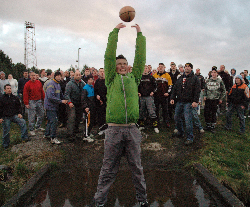 The object of this traditional Workington mass football scrumage is to Hail the special ball. Hundreds of people end up in the Cloffocks beck or the harbour during the battles.
One man competing each year is Low Seaton roofing contractor Joe Sandwith, who will continue to compete for the Downies and to campaign for The Cloffocks to be left undeveloped.
Landowners Allerdale council are seeking a section 106 agreement with Tescos over the land at Cloffocks (Feb 2009). In 2009 Despite the Downies' spectacular Saturday win, the Uppies were the series victors, having won the Good Friday and Tuesday games.
Similar ball game takes place at Shrovetime at Ashbourne in Derbyshire. Here the teams are known as Up ards and Down ards. These games can last eight hours long and have been on the go since the 15th century.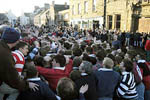 In the Orkney Isles they have what is called the Ba Game through the centre of Kirkwall (See picture left)


The book Uppies and Downies by by Hugh Hornby
edited by Simon Inglis provides more information.
Publication date: Feb 5 2008
Price: £16.99
ISBN: 978 1905624 645


---
Where to stay in the Lakes | What to do and see in the Lakes | Lakestay E mails