WORLD'S BIGGEST LIAR COMPETITION
is held at The Bridge Inn, Santon Bridge, Cumbria
each November
...for more info check out www.jenningsbrewery.co.uk
It started at the Wasdale Head 30 years ago in memory of its former
landlord Will Ritson, who used to enthral his customers with tall
tales.
In 2011 MARYPORT man Glen Boylan last night scooped the title of the World's Biggest Liar.
In 2008 SILLOTH farmer John Graham has been named the World's Biggest Liar for the seventh time - honestly.
John, famously known as Johnny Liar, beat of tough competition last night at the annual event held at Santon Bridge. The event is now staged by Jennings Brewery.
In 2005 Beating competition from around the world, 49 year old Michael Naylor scooped the Jennings trophy for the second year running, with tales of Wassie, the Cumbrian Lake Monster.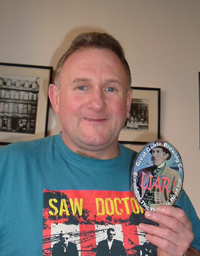 The 2004 Contest took place at the Bridge Inn, Santon Bridge in lower Wasdale on the evening of Thursday, November 18.

The 2004 winner was Mike Naylor, who brews ale , including his own Liar Ale at Wasdale's micro brewery.
UNDER the new Foxhunting Bill any licensed pack must first notify foxes in writing of any planned hunt.
Well at least that is what one of the 12 entrants told a sell-out
gathering of the World's Biggest Liar contest2004.
But the judges decided after hearing some excellent tales to award this year's prize to a man who entered the room in his best dungarees and green wellies and told the noisy audience he was Micky Mandela. His true
identity was Mike Naylor, a nephew to previous winner, Jos Naylor. Mike told the audience and BBC camera crews that he was from South Africa, but thanks to a Teach Yourself Cumbrian course he was able to
address the gathering in Cumbrian. He said a local firm called Bang! No Folk Left (BNFL) were flooding Wasdale and Herdwick sheep would be replaced by fish farming, monitored by new Defra, "or should we say
Daftra" organisation, the Ministry of Underwater Fisheries and Food
(MUFF).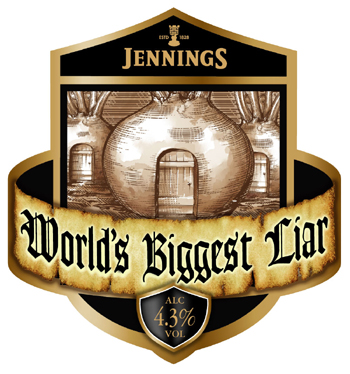 Wasdale show was to be replaced with spectator events such as sea horse racing. He did say that residents who's homes were to be flooded "would be allowed to keep their homes, with air locks at the door
and cat or dog fish flaps."It was the first time that Mike, 48, had ever entered the competition, which attracts interest and competitors from around the world.Last year's event ended in a storm of controversy when South African Abrie Kruger became the first ever overseas winner. As he lifted the coveted World's Biggest Liar trophy last night,father-of-three Mike shouted, "It's ga'an yam, Abrie!" But it was all in good humour - as Mike, works with Abrie at the Wasdale Head Inn. Landlord of the Wasdale Head Inn, Howard Christie, was also a
competitor in this year's contest. More than 120 people from across the country, and as far away as Sweden
and South Africa, packed into The Bridge Inn at Santon Bridge for the
World's Biggest Liar Competition.
Mike said : "It's the first lie I have ever told in my
life! It hasn't sunk in yet because I didn't think I was going to
win. I just entered for the fun of it and for the laugh. I came down to
support last year's winner who works with me. He got a bit of a rough
deal last year."
He added: "I was born at Wasdale Head and everyone always said Will
Ritson was the world's biggest liar, but he was a gentleman. And he
was always one step ahead of all the people calling him."
James Mason, of Whitehaven, who won in 1998, came second with a tale that included a line that Tony Blair had asked local MP Jack Cunningham to "get him two tickets for the show, but Jack said he got lost in Copeland it was so long since he had been there!"
Taffy Thomas, taking part for the 10th time, came third.
The judges including the Mayor coun Bill Southward and his wife Sylvia,
said the standard of entries was exceptionally high and the results were
very close. Two entrants "froze" part way through their tales so
great is the stage pressure and compere Charles Maudling said: "It
takes courage to come up here and lie through your teeth."
The contest all started in the era 1808-1890 when Will Ritson was the landlord of the Wasdale Inn, set beneath the dark and dangerous crags of Great Gable and Scafell Pike (England's highest mountain). He had a reputation for telling porkies or tall tales. For instance he tried to fool Victorian tourists into believing turnips in the dale grew so large that farm families quarried into them for their meals and the hollowed out root crops could then be used as byres or barns for the Herdwick fell sheep of the area. In this century the local tourist industry exploited the folk tale to make the Biggest Liar Contest an annual event. Contestants have to stand and deliver their tall tales before a lively audience high on the locally brewed Jennings ales and a traditional Cumbrian Tattie Pot supper of mutton, black pudding, potatoes and spicy pickled red cabbage.
Previous winners have included Howard Christie, the current landlord of the Wastwater Hotel, which has its own cosy Ritson Bar.
Photographer Jim Davies reports from the 2019 contest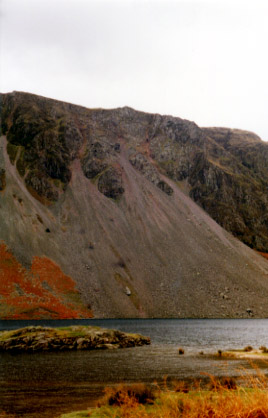 List of Previous Winners
1974 - Tom Purdham
1975 - Victor Longridge
1976 - Phil Hazelhurst
1977 - Bruce Porter
1978 - Bruce Porter
1979 - Jos Naylor
1980 - Tom Purdham
1981 - Gordon Hallet
1982 - Jos Naylor
1983 - Bill Armstrong
1984 - Dr. Peter Nuttall
1985 - John Reeves
1986 - Roger Wicks
1987 - Roger Wicks
1988 - John Reeves
1989 - John Reeves
1990 - Reg White
1991 - Reg White
1992 - Derek Martin
1993 - Derek Martin
1994 - John Graham
1995 - John Graham
1996 - John Graham
1997 - Howard Christie
1998 - James Mason
1999 - John Graham
2000 - John Graham
2001 - George Kemp
2002 - George Kemp
2003 - Abrie Kruger
2004 - Mike Naylor
2005 - Mike Naylor
2006 - Sue Perkins