LEWIS Carroll, author of the famous story of Alice in Wonderland had strong family links with Irton and Holmrook near Wasdale. Lewis Carroll (1832-98) was born Charles Lutwidge Dodgson in Daresbury, Cheshire. and educated at Oxford. He was always a friend of children, especially little girls, and wrote thousands of letters to them, delightful flights of fancy, many illustrated with drawings. Today we might be surprised that the Victorian public saw nothing untoward in his interest in taking nude photographs of children.
His uncle, the Rev Charles Skeffington Lutwidge was the owner of the hall when his relation, Lewis Carroll visited. Although the Lewis Carroll diaries are incomplete it is clear he frequently visited his uncle at Holmrook. On one visit he tramped the fells over via Great Gable to reach Holmrook. After another three day visit he recorded in his diary that the train trip was "The longest and costliest journey I have ever gone through for so short a visit.''
The Lutwidge family, owners of Holmrook Hall (pictured) , made their wealth in the sailing vessels carrying the profitable tobacco cargoes to Whitehaven from the new Virginia colonies in the infant USA.. In 1742 Thomas and Walter Lutwidge were heavily involved in the Tobacco trade between Whitehaven and Virginia. According to Daniel Hay's book in 1746 Walter described himself as a "man of opulency'' with a fortune of £30,000. But investing in trade was a gamble and Thomas Lutwidge overstretched himself and ended his days dying in Dublin debtors jail in 1744.
In Irton Church is the grave of Admiral Skeffington Ludwidge, son of Thomas Ludwidge (1670-1746) involved in the Whitehaven-West Indies tobacco trade. In 1773 Admiralty mounted a small Arctic expedition to try and find a North East passage to the South Seas. Two sloops set off, one was the HMS Carcass commanded by Captain Lutwidge. As sever weather expected "no boys" were to be included, but 15 year old Horatio Nelson a midshipman persuaded them to let him go. After three months the expedition returned empty handed, but on the trip Nelson had a close encounter with a polar bear. Another member of the family, Skeffington Lutwidge, an admiral, died at Holmrook Hall nine years after Trafalgar. Major Charles Lutwidge sold Holmrook Hall to his uncle Skeffington Lutwidge , an admiral of the red. Major Charles died in 1848.
During the Second World War the hall, renamed as HMS Volcano was requisitioned and locals told it was a recuperation hospital for those who had suffered shipwrecks. However the hall was in fact a secret training school for the RN. Mr Michael Friend recalls: "My father was an instructor there from 1943-46 . Its primary purpose was to teach munitions and explosive demolition. It also gave instruction to special forces including many Norwegians. My late father was Lt. P. D. Friend GM, bomb disposal officer at Chatham (where he got one of the very 1st George Medals in 1940) he went to Volcano as an instructor and later told me the "shipwreck" story was just a cover.
I recall there were lots of peacocks in the grounds. It is very hard to find any reference to
HMS Volcano, I don't know why."
Soon after the war the hall fell into dereliction.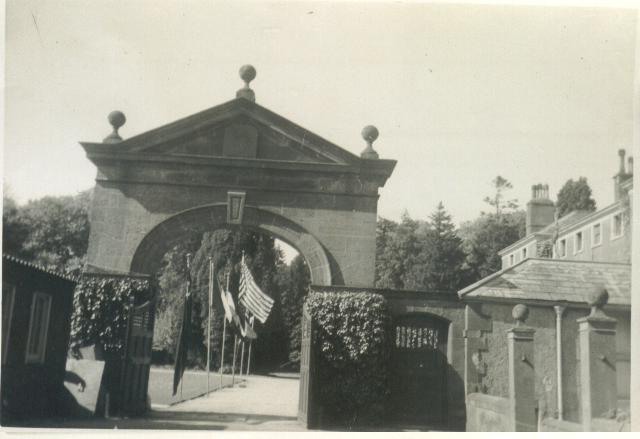 Today most of the hall has gone, demolished in the 1940's. However the former stables block is occupied and is set in the hall's woodland between the main A595 road and the River Irt. This trout river which runs from Wastwater to Ravenglass features an unusual feature. The river pearls of the Irt and further north the River Ehen were known to the Romans. Tacitus and Bede mention British pearls. To quote Camden of the River Irt: "In this brook the shellfish eagerly sucking in the dew, conceive and bring forth pearls, or shell berries. These the inhabitants gather at low water and sell to jewellers.''


About 1695 a company was formed to search for pearls and Thomas Patrickson of How Hall, Ennerdale employed local people to gather £800 worth. The river mussels can still be found with care. On the other side of the River Irt an ancient sandstone cross in Irton Churchyard bears the Icelandic runes that show the strong Viking connections with this coastal area of Cumbria. The sandstone cross is almost a sister to the famous Gosforth viking cross (illustrated).