Badgers in Lakeland
Badgers are shy elusive animals that are common, but rarely seen, in the Lake District. There have been claims that badgers may increase the risk of the spread of TB in cattle.
In early 2004 the government department DEFRA is to embark on a survey of badgers in South Cumbria following an unexplained rise in bovine TB incidents in South West Cumbria. The survey will also monitor deer culled and found dead with suspect TB lesions within the survey area. The structured survey will concentrate on badgers and deer killed on the roads in an area of around 180 sq kilometres with the intention of determining whether any of the animals are infected with bovine TB.
Cumbria has been relatively free from bovine TB for many years, but there has been an increasing incidence of outbreaks in cattle in recent months. While some of these are related to the purchase of infected cattle from other parts of country, there have been seven confirmed TB incidents in the Furness peninsula in the last 18 months where purchased livestock do not appear to be involved. The State Veterinary Service is currently testing all of the cattle in the area. Results from the extra testing of cattle and the Road Traffic Accident (RTA) survey will be used to determine the future cattle testing policy for the area.
Farmers and members of the public who find dead badgers on roads in the Furness Peninsula should contact the Animal Health Divisional Office at Carlisle (Tel: 01228 591999).
More about Badgers and the laws protecting them: http://www.badgerland.co.uk/


Red Squirrels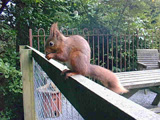 Whinlatter (just west of Keswick) has been made an official red squirrel reserve. It still has a good population of red squirrels and is ideally suited to the species because of the way the forest is managed. It is one of Cumbria's larger forests (1,200ha) and is largely coniferous, the habitat that is better suited to red squirrels than their American grey cousins. A five-year campaign to try to save the red squirrel, one of the best known worldwide symbols of the Lake District is to be considered by the Lake District National Park Authority. There are now about 2.5 million grey squirrels in Great Britain and only 160,000 reds in places like the Lake District. The conservation group Red Alert North West taking a leading role. It is claimed grey squirrels were gradually becoming the dominant species in the National Park, leaving the native reds to occupy just a few isolated pockets, primarily in the north.
The key proposals in are:* Support the creation of four red squirrel refuges by Red Alert North West throughout the National Park. More information on Cumbrian Squirrels.


In 2010 this squirrel trap (presumambly to catch Greys?) was pictured on Dodd fell overlooking Bassenthwaite Lake.