Angling and Fishing in the English Lake District
* The close season for coarse fishing on rivers was introduced in 1878 and is in force from 15 March to 15 June. It aims to reduce risks to spawning fish caused by angling.
Still Waters
Remember no live bait or leads on any National Trust waters…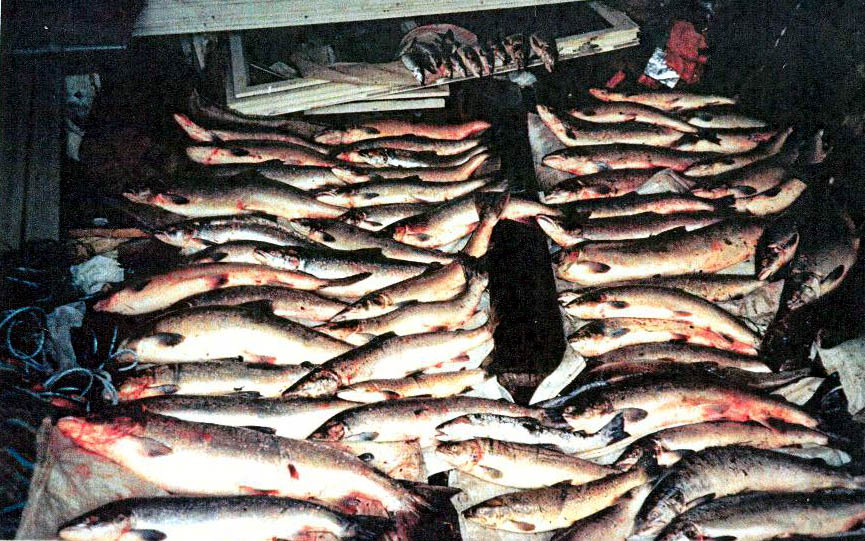 Bank's Pond; Near Old Hutton, Kendal. Day tickets from Carlsons Tackle,Kendal. Tel 01539735481.
Bassenthwaite Lake. Permits from Tourist Information at Cockermouth. Baystone Bank Reservoir, Millom. Day tickets from Haverigg PO Fly fishing only.
Bigland Hall Trout Fishery. Newby Bridge.Day permits from Bigland Hall Estates Te.01539531728
Blelham Tarn, Hawkeshead Some day permits from Go Fishing, Ambleside www.sodo.freeserve.co.uk
Blencarn Lake,East of PenrithTel.0176888284
Brotherswater west shore, Patterdale National Trust Tel.01539435599
Buttermere & Crummock; Day permits from Dalegarth farm, Buttermere.
Cleabarrow Tarn, Permits from Bowness on Windermere tourist information.
Cogra Moss, Lamplugh Day permits from Inglenook Caravn site.
Coniston, Tackle shop at Tilberthwaite Avenue, Coniston.
Derwentwater, Eastern side of lake, permits from Field and Stream, Main Street, Keswick.
Devoke Water, Day permits Waberthwaite PO.
Drunken Duck Tarn, Tickets fron Drunken Duck.
Dubbs Trout Fishery, Troutbeck Day permits from Ings service station.
Easdale Tarn, Details from National Trust Tel 01539435599
Eller Beck Fishery Tel. 01900825268
Ennerdale.Permits Wath BrowPO.
Esthwaite Water, Hawkeshead Details see www.hawkshead.demon.co.uk
Ghyll Head Fishery, Bowness.www.lakesdistrictfishing.net
Gilcrux fishery Tel. 01697322488
Grasmere Day permits from Grasmere tourist information
Haig Anglers, Whitehaven: Sec. Stephen McGuire Tel 01946 66181
Hallmore fly fishery Minthorpe Tel 07736799357
Hayeswater reservoir, Kirkstone Permits Glenridding tourist information
High Arnside Tarn, Coniston www.sodo.freeserve.co.uk
High Newton Fishery, Newby Bridge www.lakesdistrictfishing.net
Lake Windermere; Free, but banks mainly private.
Longlands Lake, Cleator Permit from Wath Brow PO(see details below *)
Loughrigg Tarn, Ambleside Permits from Tran Foot Farm
Loweswater. Permits from Water Edge Farm.
Meadley Reservoir, Cleator Fly only. Permits Wath Brow PO.
Moss Eccles Tran, Hawkshead Permits from Tower Bank Arms, Near Sawrey
Rydal Water, Tourist Information for permit.
School Knott Tarn, Windermere www.lakedistrictfishing.co.uk
Thirlmere Bait restrictions
Ullswater No spinning or bait until June 16.
Watendlath Tarn above Borrowdale Fly only Tel 01768777293
Yew Tree Tarn, Coniston, Day permits tourist Information and Sun Inn Coniston.
*Longlands lake previously know as Brokenlands, was rented from by Wathbrow and Ennerdale Anglers association, fishing for wild brown trout and eel's.
The lake was then stocked with rainbow trout and brown trout some time in the 1980's, the lake is now also stocked with Blue trout, The trout range from 1 ¼ LB to 9 LB, and are stocked once a month with the record trout caught so far being a 11 ¼ LB Rainbow grown on due to the high proportion of natural feed in the lake. The fishery is run on a non profit making basis all of the profit from the permit sales are put back as fish into the lake.
The Disabled fishing platform which was recently erected on the lake was kindly funded by the Environment Agency with help from Mothersill Engineering and Eskett quarries providing tools and stone. The platform is wheelchair friendly with access from the car park to the lake.
A license and permit are required to fish the lake, permits are available from Farrens shop Cleator, Udales News agents Cleator Moor and Wathbrow post office where advice and tackle are available from the Club secretary Mr Terry Herbert telephone No 0776891260 or Mr Bill Lee email: WBandRLLee@aol.com
Any other advice about Disabled fishing in the area is also available from Jo Radcliff of the Environment Agency at Penrith on telephone No 01768-215874.


Rivers
BlackBeck, Day tickets from Haverigg PO
River Annas. Day tickets Haverigg PO. Close season 1/10 to 30/4
River Brathay. Tickets from local tackle shops See www.lakedistrictfishing.net River Caldew. Day permits Tel. 01228710165
River Cocker. Day permits from Cleelands Furnishings, Main Street Cockermouth or Tourist Information Office.
Dacre Beck near Penrith. Tickets from Sykes Sports Shop, Penrith or Pooley Bridge PO.
River Derwent: Keswick Day permits from Field and Stream, Main Street Keswick; Derwent below Cockermouth Day permits from Cockermouth Castle fisheries Tel 01900 826320; In Cockermouth town permits available to staying guests, permits from tourist information.
River Duddon. Day tickets from Haverigg PO.
River Eamont Fly fishing for trout only from Pooley Bridge to Riover Eden. Permits from Sykes Sports Shop, Pooley Bridge PO Tel. 0176888294. Also at Bolton day tickets from Pgney's, Appleby Tel. 017683 51240. For salmon fisheries contact Fill Kilvington solcitors Tel. 017683 71495. Corase fishing on the Eden at Warwick Hall Tel 01228 562249. River Ehen Permits Wath Brow PO Tel. 01946 810377. River Esk, Day Tickets from Holmrook garage. River Greta (Keswick) See Field and Stream, Main Street, keswick.Haweswater Beck. Details from Penrith Angling Assiciuaition Tel. 0176888294. River irt (lower) contact Holmrook Garage. Irt (Upper) Gosforth Angling Club Tel. 019467 25367. River Kent (lower) Contact Jolly Angler's Inn at Burnside. For Kent at Staveley, contact Staveley Angling Assoc Tel. 01539 821673. River Rothay See local Tourist Information offices in Ambleside. Rare fish. The Char feature as a rare species present in Ennerdale Water. Even rarer are the Vendace. Bassenthwaite is a designated Site of Special Scientific Interest and National Nature Reserve and it is home to the vendace which is one of the UKs rarest fish and feeds primarily on free-swimming organisms such as water fleas. It is protected under the Wildlife and Countryside Act (1981). But increasing amounts of sediment are finding their way into the water hampering the breeding of the vendace. There are only two populations of vendace in the country -at Bassenthwaite and Derwent Water.There used to be two populations in Scotland but both have been
reported extinct since1951.
In October 2005 anglers were alerted to an infestation of crayfish in Cumbrian rivers has been called a "devastating blow" to fish and plantlife. Environmental officers warn that the non-native species, signal crayfish, poses a serious threat to salmon spawning after they were spotted on the River Derwent near Penrith. They could also damage the native, white-clawed crayfish population, through competition and spreading crayfish plague. The adjacent Eden catchment supports one of Europe's best white-clawed crayfish populations and the Environment Agency is extremely concerned about the risk. The Agency are urging anyone who thinks they have seen a crayfish in any tributaries of the River Derwent to contact us on 0870 850 8082.
In November 2005 Under-threat fish which can be traced back to the Ice Age are to be airlifted to a new home by an RAF helicopter.
Around 200 Vendace will be winched from Derwentwater and moved to nearby Sprinkling Tarn in the Borrowdale Valley in the Lake District. The move was prompted by fears that poor water quality and pollution could wipe out the endangered white fish. During the rescue mission on 1 December the fish will be caught in nets and placed in oxygenated tanks. Large canvas bags, normally used to airlift rocks and materials for high Lake District footpath repairs, will hold the tanks as they are taken on their seven-mile journey. Environment Agency fisheries technical team leader Keith Kendall said: "Derwentwater has a population of around 15,000 vendace and will not miss the 200 we are hoping to move. "We looked at three tarns, but went for Sprinkling because not only is it one of the closest to Derwentwater, but has the best environmental conditions for vendace."

---
Where to stay in the Lakes | What to do and see in the Lakes | Lakestay E mails


Home page © Lakestay All rights reserved.