Betwixt Coniston and Windermere is a land that escapes some of the tourist hurly burly. Although Hawkshead is rightly a honey-pot for visitors, just over the hills to the south over a single track road that cannot easily accommodate cars is a world that is ideal for families and mountain bike enthusiasts.
Grizedale , Satterthwaite and the simple calm of High Dale Park are not an area of high craggy fells, but state backed Forest Enterprise (part of the old Forestry Commission) has gone overboard on marking out and signposting forest tracks and trails. To add extra pleasure for the kids wooden sculptures and carvings are also dotted about in the landscape. Car parking at Grisedales costs £2 and mountain bikes can be hired. Go to the www.grizedale.org web site Cumbria for more info.
The area is popular with mountain bikers and in 2005 The North Face Mountain Bike Trail was started at huge expense , a
10-mile track that consists of 10 sections of sinuous singletrack joined by forest tracks in Cumbria's already popular and picturesque Grizedale Forest.
At present Grizedale Forest attracts 200,000 visitors a year of which 25% of these are cyclists/mountain bikers and it is expected that this number will increase to 250,000 in two years because of this new development.
The cycle trail will contour round the forest travelling through deciduous and coniferous woodlands. Both challenging and exhilarating the majority of the trail will be narrow and twisty, though it will be accessible to both keen The North Face Mountain Bike Trail aims to emulate the success of the hugely popular trails in North Wales."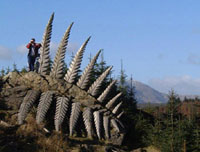 On the Grisedale hilltops.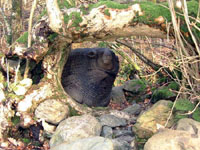 Curious wooden figures hide in the undergrowth!