GEM of a Walk in GRASMERE
GRASMERE is akin to the jewel in the heart of the Lakes. Just as the Lakes are themselves a miniature version of the Alps, then Grasmere has its own miniaturised landscape. A landscape on a more human scale than the craggy heights of Bowfell or Scafell.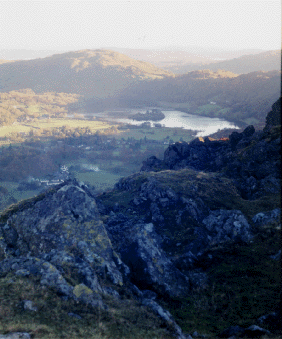 Grasmere's Helm Crag is a perfect summer afternoon walk that captures so much of the Lakes for modest effort. Helm Crag has a skyline-grabbing profile that motorists on the main Grasmere to Keswick road know better as either the Lion and the Lamb or the Old Lady at the Piano depending on the viewpoint. The giant pinnacles and slabs that make the outline of the lion couchant and its small lamb companion make for fascinating scrambling.
As so often the case Wainwright sums it up well when he calls it "an exhilarating little climb.
" After stocking up on some Sarah Nelson Gingerbread our route takes the road signposted for Easedale which starts near the Heaton Cooper art gallery in the centre of the village . It is also the road for the Butharlyp How Youth Hostel, which is soon passed on the right. After the road passes through an open field that has the feel of a village green the crags we are aiming for are directly in view above us on the right.
At the next cluster of dwellings known cosily as Kitty Crag, we take the stone rippled path ascending to the right. This zig-zags its way through ancient small quarries before cresting the brow of the hill and sweeping gradually leftwards to the ridge. On the left the view is over Easedale Tarn and onwards to the backdoor of the Langdales. To the right the clean lines of Fairfield and Helvelyn's outlyers appear so close you could lean across and touch them.
The only caution for those with young children is that although the summit area is a great playground, many of the boulders are greasy with moss and warnings should be given to the over boisterous!
Pictured: Looking back down on Grasmere from the summit of Helm Crag.
More about Grasmere and where to stay.

Meanwhile under your feet if you climb Dunmail Raise to the North of Grasmere...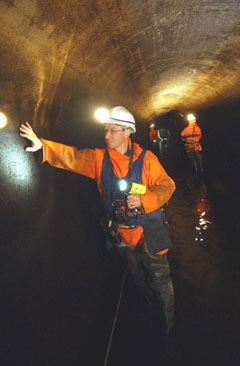 This (seen right) is the hidden Victorian aquaduct seen for first time in 120 years...when Manchester's Cotton was King in 1885 work started on the 100 mile longest gravity fed aquaduct in coutry to take water to the city from the Lakes. United Utilities have been carrying out the first such inspection deep below Dunmail Raise..water travels at three miles an hour on its 100 miles flow to taps in Manchester.