Ash Cottage Red Lion Square Grasmere Ambleside LA22 9SP Tel 015394 35224
Beck Allens Grasmere LA22 9SZ Tel 015394 35563
BramriggsGrasmere, Cumbria. LA22 9RU Phone: 015394 35363
Bridge House Hotel Church Bridge Grasmere LA22 9SN Tel 015394 35425
Broadrayne FarmGrasmere, Cumbria. LA22 9RU Phone:015394 35055
Chestnut Villa Keswick Road Grasmere Near Ambleside LA22 9RE Tel 015394 35218
Crummock CottageKeswick Road, Grasmere, Cumbria. LA22 9QY Phone: 015394 35606.
Dunmail House Keswick Road, Grasmere LA22 9RE
Five Star silver award.
Tel 015394 35256. www.dunmailhouse.com

Forest Side Hotel Forest Side, Grasmere, Ambleside, LA22 9RN
015394 35250
Gold Rill Hotel Red Bank Road GrasmereLA22 9PU Tel 015394 35486
www.gold-rill.com/
The Grasmere Hotel Broadgate Grasmere LA22 9TA Tel 015394 35277
Grasmere Red Lion Hotel Red Lion Square Grasmere LA22 9SS Tel 015394 35456
The Harwood Red Lion Square Grasmere LA22 9SP Tel 015394 35248
Heron Beck Guest House, Grasmere, LA22 9RB Tel:015394 35272
How Foot Lodge Town End Grasmere LA22 9SQ Tel 015394 35366 Forest SideGrasmere. LA22 9RN Phone: 015394 35250
Kirk Allans Riverside Bed & BreakfastChurch Bridge, Stock Lane, Grasmere,LA22 9SNBR Phone: 015394 35745.

Lake View Country House Lake View Drive Grasmere LA22 9TD Tel 015394 35384
Moss Grove Hotel Grasmere LA22 9SW Tel 015394 32251
Low FellKeswick Road, Grasmere LA22 9QY Phone:015394 35442
Nab CottageRydal, Grasmere,Cumbria. LA22 9SD Phone: 015394 35311
Oak LodgeEasedale Road, Grasmere. LA22 9QJ Phone: 015394 35527
Raise View Guest HouseWhite Bridge, Grasmere LA22 9RQ Phone: 015394 35215

Riversdale, White Bridge, Grasmere. LA22 9RQ Tel No 015394 35619
Oak Bank Hotel Broadgate Grasmere LA22 9TA Tel 015394 35217
Raise View White Bridge Grasmere LA22 9RQ Tel 015394 35215
Rothay Garden Hotel Broadgate Grasmere LA22 9RJ Tel 015394 35334
www.grasmere.com/
Rockwood; Grasmere (www.rockwood-lakedistrict.com)
Rothay Lodge Garden Apartment White Bridge Grasmere LA22 9RH Tel 015394 35341 www.rothay-lodge.co.uk
RiversdaleGrasmere, LA22 9RQBR Phone: 015394 35619
RoundhillEasedale, Grasmere, LA22 9QRPhone:015394 35233
Silver LeaEasedale Road, Grasmere, LA22 9QE Phone:015394 35657
Titteringdales Guest House Pye Lane Grasmere LA22 9RQ Tel 015394 35439
Travellers Rest Inn Grasmere LA23 9RR Freephone 0500 600725
Woodland Crag How Head Lane Grasmere LA22 9SG Tel 015394 3535.
Events
Grasmere Sports, Last Sunday each August.

Other Lakeland Events


Attractions 2009

RYDAL MOUNT AND GARDENS
A short walk or bus ride from Grasmere is this delightful house and garden. Other Lakeland gardens
Grasmere Gingerbread
The business was established in 1854 by Sarah Nelson at Church Cottage, Grasmere. Gingerbread has been made there since that time and the recipe is still a secret and locked away in the bank at Ambleside. The cottage itself was built in 1630 as the village school and is where Wordsworth taught.

Useful links:
Was William Wordsworth a government spy?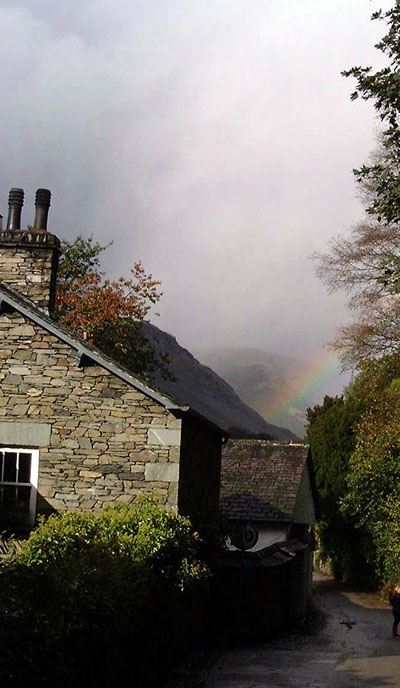 The Wordsworth Trust finish its new collection centre to house the Trust's internationally important collection of 50,000 manuscripts, books, paintings, drawings and memorabilia. A Rotunda also include the "Voice Box", a space for poetry readings and other interpretative activities. Contact: 015394 35544
events@wordsworth.org.uk.


Tourist Information centre.
Tel. 015394 32582 .