GARDENS in LAKELAND

ACORN BANK GARDEN AND WATER-MILL
Temple Sowerby, nr Penrith Cumbria CA10 1SP
Ancient oaks and the high enclosing walls of this delightful garden keep out the worst of the Cumbrian climate, resulting in a spectacular display of shrubs, roses and herbaceous borders. Sheltered orchards contain a variety of traditional fruit trees and the famous herb garden is the largest collection of medicinal and culinary plants in the North. A circular woodland walk runs along Crowdundle Beck to Acorn Bank water-mill, which although under restoration, is open to visitors. The house is not open to the public, phone: 017683 61893

BRANTWOOD
East of Coniston lake, the home of a fascinating Victorian, John Ruskin. Includes what Ruskin described as his Ziggy Zaggy garden that ducks and weaves through the trees. Ruskin believed in combining both natural flora and aspects of the traditional cottage garden. Herbaceous borders lead down to the shore of Lake Coniston. Our view is looking from Brantwood across Coniston Lake. Brantwood is highly recommended. Tel. 015394 41396. Brantwood, home of John Ruskin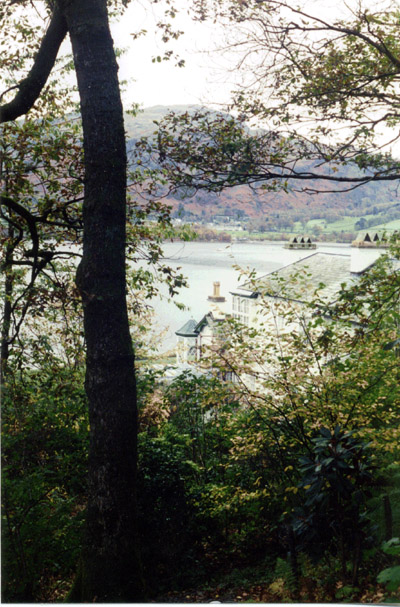 DALEMAIN
Located three miles out of Penrith on the Ullswater road. Closed Fridays and Saturdays. Some of the oldest gardens in Cumbria with a history stretching back to 1156. Since 1679 Dalemain has been in the Hassell family. Much of the layout of herbaceous borders and walled gardens date from the 17th century. www.dalemain.com
DALLAM TOWER
Privately owned and open occassionally under the National Garden Scheme. A Japanese style bridge and beautiful water gardens are the high spots of this delightful garden in the limestone belt between Milnthorp and Arnside, south of Kendal.

DOVE COTTAGE
In 1799 William Wordsworth first rented the old inn that was called the Dove and Olive Bough, which became famous as his creative home Dove Cottage. Although now overly popular on the tourist trail the cottage draped in masses of the rose Prelude and honeysuckle is well worthy of a visit on a quiet morning or late afternoon. Wordsworth had less time for what he called 'exotics' of the garden. Hence the garden features such native dlights as Cowslips, primroses, sweet peas, foxgloves, yew trees planted by the poet and needless to say, daffodils!
Dunningwell Hall in Millom.
Victorian garden, woodland walks, statues for sale, small art gallery. But note gardens may no longer be open to public.


Eskdale Japanese garden....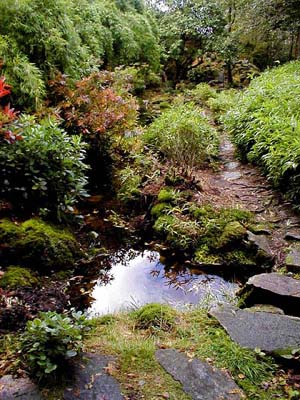 Nestled in a small wood called Giggle Alley, in Eskdale, a Japanese Garden (Seen right) had lain largely neglected since its sale in 1949. Recent restoration appears to have halted and the garden is now overgrown.
GRASMERE AND GREAT LANGDALE
The National Trust owns a Victorian garden and arboretum at High Close phone: 015394 37663 Note: There is a NT campsite at Great Langdale, open all year [NY286059]; for details tel. 015394 37668
COPT HOWE
Privately owned but open to visitors under the National Garden Scheme. Located just north of Chapel Stile village on the Amblesdie to Langdale road. Acers and rhododendrons envelope paths through mature woodland with dramatic backdrops of the Lakeland fells.
HILL TOP
Near Sawrey, Ambleside Cumbria LA22 0LF
If you can find a quiet time in the spring or autumn this is a cosy cottage garden. Beatrix Potter wrote many of her famous children's stories in this little 17th-century house and it has been kept exactly as she left it, complete with her furniture and china. There is a traditional cottage garden attached. A selection of her original illustrations may be seen at the Beatrix Potter Gallery. See the garden Beatrix Potter used as her inspiration at Keswick.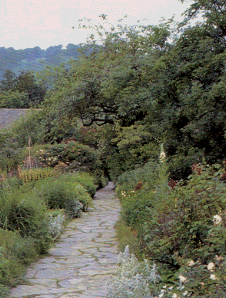 Note: Hill Top is a very small house and a timed entry system is operated, with a daily limit of 800 visitors. Opening Times; 27 March to 31 Oct: daily except Thur & Fri (but open Good Fri) 11--5 No party reduction. Parking 200m; no parking for coaches phone: 015394 36269
2ml S of Hawkshead, in hamlet of Near Sawrey, behind the Tower Bank Arms [96/97: SD370955]
Bus: Stagecoach in Cumbria 505/6 Ambleside--Coniston service (connections from BR Windermere); also frequent service from BR Windermere to Bowness Pier, thence ferry and 2ml walk (tel. 0870 608 2 608) Also this year "Mountain Goat" (buses) are running a shuttle service from Ferry House to Hawkshead via Hill Top to link with "Windermere Lake Cruises" Launch service from Bowness.
Station: Windermere 4½ml via vehicle ferry.

DERWENT ISLAND HOUSE & Lingholm
In lake Derwentwater, Cumbria An intriguing Italianate house of the 1840s, set on an idyllic wooded island in Derwentwater lake, with a restrained classical interior and restored garden. phone: 015394 35599 (Regional Office)

At nearby Portinscale is Lingholm, a Victorian estate that was visited by Beatrix Potter...http://www.thelingholmkitchen.co.uk/
LARCH COTTAGE NURSERIES
Interesting combination of a garden centre and Red Barn Art Gallery. In the hard to find village of Melkinthorpe, south of Penrith. www.larchcottage.co.uk

MIREHOUSE
Woodland and lakeside walks on the road north from Keswick towards Carlisle. Shrubs and open parkland are the main features of the ground underneath the Bassenthwaite lake flanks of Skiddaw. This architecturally austere northern stone manor house was well known to Tennyson, Wordsowrth and Thomas Carlyle. Mirehouse has an adventure playground for children and a walled bee garden. Tel. 017687 72287.

MUNCASTER CASTLE
Noted for its Azaleas and woodland walks, plus a breathtaking terrace with views up the Eskdale valley to Scafell. Gardens and owl centre open daily all the year round. Tel. 01229 717614. Also nearby is the Ravenglass and Eskdale miniature railway. Both highly recommended by Lakestay.


RYDAL HALL
Nationally renown nurseryman Thomas Mawson was the driving force behind this large formal garden completed in 1909. In turn the house has been a stately manor, hotel, school before its present role as retreat house and conference centre for the Dioces of Carlisle. Its formal gardens and fountain contrast perfectly with the silvan landscape of the surrounding fells. The gardens are open most days from 9am to dusk and are free with a small donation expected.
RYDAL MOUNT
Ambleside, Cumbria LA22 9LU
Telephone:015394 33002
Opening hours:March - October 09.30-17.00 November - February 10.00-16.00 Closed Tuesdays in winter William Wordsworth's home from 1813 until his death in 1850. Family portraits, personal possessions. Extensive garden landscaped by the poet, with terraces, rare shrubs and magnificent views. Car park. Gift shop. Evening poetry readings for groups by arrangement. Reciprocal discount with Dove Cottage and Wordsworth House.
SIZERGH CASTLE
Kendal Tel. 015395 60070.


TOWNEND Yeoman Farming House
Troutbeck, Windermere, LA23 1LB. Tel 015394 32628
Home to the Browne family of yeoman farmers from 1626 to 1943. This perfect lakeland cottage and its simple garden are now in the custodianship of the National Trust. Captures the true Cumbrian rustic architecture and is less of a tourist honey-pot than Dove Cottage and Hilltop, Sawrey.
GRAYTHWAITE HALL Gardens
Hawkshead Tel.01539531248.
On the quiet (western) side of Lake Windermere, the gardens took Thomas Mawson from Troutbeck four years to create. He used rhododendrons, azaleas and flowering shrubs to cope with the thin acid soils around the Victorian Gothic hall. The gardens are open to the public throughout the summer.
HOLKER HALL

Near Grange over Sands and home to the Cavendish family. The setting for an annual Garden Festival around May 31-June 2 Website
ISEL HALL
In private ownership. Perhaps more famous than the Hall itself was its owner, the late Mary Burkett. She ran the Abbot Hall gallery in Kendal for many years until someone "she met at a strawberry tea " left her Isel Hall in her will.
Mary Burkett also included an 18,000 journey across the Middle East in a Land Rover as just one small part of her amazing c.v. But to focus on the gardens of Isel. The hall is a stone gem overlooking a deep bend in the River Derwent some four miles upstream from Cockermouth Castle.
A meadowland with red poppies and marguerites has been deliberately encouraged on the lower terraces. Privately owned, the public are allowed rare open days (Check with local Tourist Information Offices).
LEVENS HALL
Topiary Gardens, Levens Levens, Kendal, Cumbria LA8 0PD
Telephone:015395 60321.
Elizabethan house, home of the Bagot family, containing a collection of Jacobean furniture, fine paintings, the earliest English patchwork and many other beautiful objects.
The most famous topiary gardens in Britain are at Levens Hall in the Lake District. In 1694 Guillaume Beaumont, who also worked at Hampton Court Palace, first laid out the topiary and gave the garden its quartered layout, which includes the earliest ha-ha in England. The gardens have changed remarkably little since.
'A fantastical gathering of great green overblown mushrooms, leaning loaves, tall, teetering towers and ballooning bulbous blimps of yew, with smaller, almost human forms and figures in rounded box beneath them, have been caught, freeze-framed, in an absurd dance, their contorted movement stilled in some surreal Disney or Daliesque scene. By day this assemblage of tipsy, jovial party characters jostles for attention, bringing a smile to even the most serious and sober of guests. By night an altogether eerier drama unfolds . . .' Chris Crowder, the Head Gardner...since 1968
FELL FOOT PARK
The National Trust is restoring these wooded Victorian gardens at the southern end of Lake Windermere. A good robust lakeside play and picnic area that will suite families with young children. Just off the A592 between Bowness and Newby Bridge.

WOODHALL

A beautiful private garden overlooking Cockermouth that allows visits by prior arrangement.
The Lost Gardens of Lowther Castle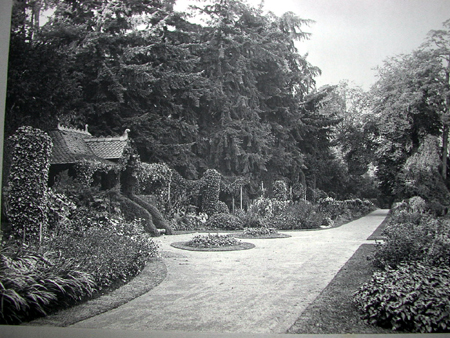 Find out more...

Also check out the National Garden Scheme: www.ngs.org.uk
---
Lakestay home page | Where to stay in the Lakes | What to do and see in the Lakes | Lakestay E mails