Ireby Cross
A three hundred year old market cross in Ireby is to be repaired, thanks to a grant from Friends of the Lake District.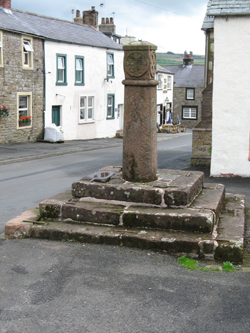 The Market or Butter Cross is a Grade II Listed monument erected in the 17th Century and is an important feature of the market square in the Cumbrian village of Ireby.
The monument, which is made of red sandstone, commemorates the granting of a market charter to William de Ireby in 1237 by King Henry III.
Last repaired in 1997 following accidental damage caused by a milk tanker, the Butter Cross has again been damaged by the wear and tear of a passing vehicle.
Ireby and Uldale Parish Council applied for the grant and the parish council will also meet the cost of installing protective bollards to help prevent any more damage from passing traffic.

Each year in May the village of Ireby is home to a popular Folk Festival.