Joss Naylor - King of the Mountains
JOSS Naylor is the tough wiry fellfarmer who took the sport of mountain running to new heights during the decade. Running up one phenomenal feat after another, the Wasdale farmer became better known as the King of the Fells or simply the Iron Man as his name became legendary. Jos proved an inspiration to a new generation keen to emulate his fantastic achievements.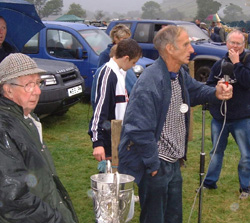 One of his finest came in 1972 when he slogged his way over 63 mountain peaks and 92 miles of treacherous Lake District terrain to set up a world record for endurance running. This was how The Whitehaven News reported it:- Naylor, at 35 years of age, rated the finest fell runner in Britain, completed the incredible feat which involved a total climb of 35,000ft in a time of 24 hours.
The weary Wasdale farmer was assisted by a team of helpers and pacemen including Chris Brasher, former Olympic gold medal winner. Naylor beat the record he set up the previous year by two peaks and afterwards it was confirmed as an achievement which had not been bettered anywhere in the world. The record could stand for years because Naylor says he is unlikely to try to improve it further. "If I could guarantee the weather I just might. "It is one hell of an undertaking. Mentally you must concentrate and keep plugging away for 24 hours." It was 9.35 a.m. on Sunday when Naylor saw the end of his ordeal as he crossed the finishing line at Bracken Close in the Wasdale valley. Asked whether he had experienced any difficulties, the amazing dalesman said: "I had a bad time on Skiddaw. I was bothered with cramp but I got rid of it and finished really well." He described the last 11 hours as "terrible" as torrential rain which flooded rivers and footpaths threatened to end his assault on the record. Naylor said that a troublesome leg which has plagued him this season also stiffened up on the descent but the 9 stone runner kept going to overcome all the odds. Naylor's epic run was given international spotlight because NBC in America were there to televise it. Read about the tough Herdwick sheep that Jos farmed at his Bowderdale holding.
*This summer(2000) Jos at the age of 64 takes part in 95 Wainwright Memorial run for charity.
Other Lakeland Spectator Sports

New book honours fellrunning legend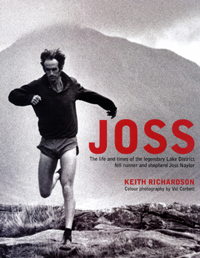 Wasdale fellfarmer Joss has been flying over the fells for over 50 years...now a new book tells his amazing tale. Find out more at www.rivergretawriter.co.uk


---
Lakestay home page | Where to stay in the Lakes | What to do and see in the Lakes | Lakestay E mails