Sports in Cumbria
Cumberland and Westmorland Wrestling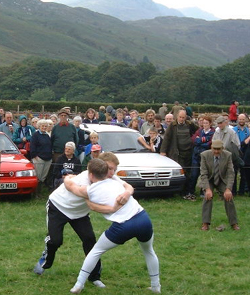 BACK Heels, Buttocks, Hanks, Inside Clicks and Hype. For the uninitiated, these are just a few of the technical terms to describe the ways you get your man to ground in Cumberland and Westmorland wrestling.
Many young partcipants now train at the Carlisle Academy of C and W wrestling run by Andrew Carlyle, Tom Harrington and Alan Jones.
The current (2008) chairman of the Associaton is Roger Robson 01697473559.
The Cumberland and Westmorland Wrestling Association was formed 100 years ago to purge the sport of the 'virus of dishonesty and gambling. Roger Robson, the Association's current President says: ;In 1906 Cumberland & Westmorland Wrestling was rife with the kind of problems now facing Italian football. So senior figures in the sport held a meeting in Carlisle 'in the interests of honest wrestling; and decided to form a new governing body.; This traditional sport is still thriving with competitions taking place across Cumberland and Westmorland, now known as Cumbria, throughout the summer months. Some of the most well known events are at Ambleside Traditional Lakeland Sports in late July, Dalston Show (August), Grasmere Sports (27th August in 2006) and the Westmorland County Show (14th September in 2006). It is thought the sport was originally brought to Britain by the Vikings. To start a match, Cumberland & Westmorland Wrestlers 'tekk hod', gripping their fingers together behind the back of their opponents. Once the referee has said, "Wrestle", the first to touch the ground except with the soles of the feet is the loser. The contest is the best of three falls. If the hold is broken that also constitutes a fall. At special events the wrestlers wear traditional costumes, white long johns, sometimes with embroidered pants centrepiece on the outside. However, any thoughts that this might not be a sport for 'real men' are soon dispelled when a match gets underway. Roger Robson says: "I think people who come to watch the sport for the first time really don't know what to expect, especially if they see the wrestlers in traditional costumes. But everyone goes away with a real admiration for the people involved in the sport. "Unlike American wrestling, Cumberland & Westmorland Wrestling is not a sport for showmen. Competitors need to be genuinely strong and skilful." In the eighteenth and nineteenth centuries, wrestlers competed for substantial cash prizes. It was at this time that match fixing, or 'barneying' as it was known, became a problem. After its formation the Cumberland & Westmorland Wrestling Association banned a number of wrestlers who had been involved in barneying. Other changes included drawing each round at the events so that no one could plan in advance who should win which bout. A hundred years later the sport still attracts great passion from competitors and spectators alike. Further information on rural shows and sporting events in Cumbria, many of which include Cumberland & Westmorland Wrestling, can be found at www.golakes.co.uk/events. Possible contact for the sport: Waberthwaite Wrestling Academy Thursday nights 7:30 p.m.
Possible contact for the sport: Thomas Porter, 9 Wastwater Rise, Seascale, Cumbria. CA20 1LB
Phone: +44 (0)194 67 280 56
Paragliding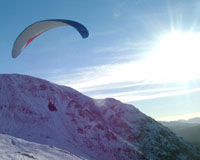 For more information, go to www.cumbriasoaringclub.co.uk or www.airventures.co.uk; or call Gordie on 07830 281 986
---
Motocross

National events are held at Dean Moor Moto Cross Park
west of Cockermouth. Find out more here
Kart Racing


Rowrah , just south of Cockermouth is the home of Cumbria Kart Racing club where Lewis Hamilton and David Coulthard did some of the early racing....CumbriaKartingClub's website
Rugby League

Whitehaven play regular games in the First Division of the RL Premiership. Other Cumbria teams Workington Town and Barrow Raiders play regular fixtures. There is also an active amateur RL and RU scene.

Cumberland RL and other sports from Cumberland Echo.
Fell Running
For most of us simply walking up the mountains of Cumbria is demanding enough. But participants in fellrunning pit their agility and detailed knowledge of the high fells in gruelling fell races. Among the venues for such races are the lakeland shows such as Ambleside Sports. There are also notable races such as the Ennerdale, Fairfield and Wasdale Horseshoe races.

One of the kings of this sport is retired Wasdale shepherd, Jos Naylor
And also the Cumberland Fell Runners at www.c-f-r.org.uk




Rev Up your Engines!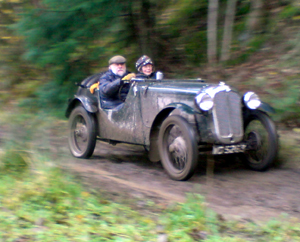 The Vintage Sports-Car Club - for people with cars built before 1931 - hold Lakeland Trials event each year...Find out more here www.vscc.co.uk
Carlisle United

Location: Carlisle United Football Club Brunton Park Stadium Carlisle Cumbria CA1 1LL Telephone Numbers Main Office : 01228 526237 Main Office Fax : 01228 530138 Ticket Office : 01228 526237

Golf

There are excellent coastal golf courses at Maryport and Silloth.
Cockermouth golf club.
Also details of Whitehaven's golf course.
Keswick Golf Course
Workington Reds A.F.C.
Workington Reds are members of : The Football Association, Cumberland F.A. The Unibond League, Nissan Wearside Football League, The CG Youth League, The Allerdale Junior Football League. Ground : Borough Park, Workington. Capacity : 2,500 (250 Seated)
Club Nickname : "REDS" Record Attendance : 21,000 v Manchester United 1958 Home strip : Red shirts with white & black trim, red shorts, red socks Away strip : Fluorescent yellow & black shirts, black shorts, black socks .

Hound Trailing
Instead of setting foxhounds to hunt Freddie the fox the sport of hound trailing sets the hounds to chase after a scented trail dragged for up to ten miles over the Cumbrian mountains in a test of the dogs' speed and stamina.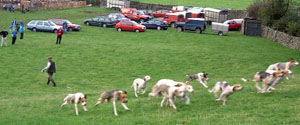 The sport started in the Pennines and an early reference was in a parish record of 1750 in Wenslydale. This records that 18 old pennies were paid for a dead cat to be used as the 'drag' to lay down a scent trail for the pack of trail hounds to race after. Lighter than foxhounds the trail hounds are carefully bred and constantly trained. Bookmakers attend all the trail meetings and vast amounts can be bet on potential winners. Novelist Hugh Walpole dropped the starting flag on one such trail in Threlkeld in 1927. In those days thousands turned up to cheer on the racing hounds.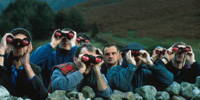 West Cumbria, with its recent legacy of heavy industry, had been the centre of trail hounding, the working man's alternative to the rich landowner's foxhunting. A smaller trail hounding enthusiasm also exists in Cork and Kerry in Eire. Here the sport is called Draghunting and involves chasing live quarry in the winter and the drag in summer. The drag is generally a sack of rags and sawdust soaked in aniseed, turpentine and parafin.
A recent book on the sport is John Coughlan's Hound Trailing ISBN 0-9525742-2-5.

The Hound Trail Association's web site HTA

Hound Trailing fixtures are generally listed each week in.... The Whitehaven News
Diving

Windermere.
Diving is permitted but groups must check in with the Lake Warden, Lake Warden's Office, Ferry Nab, Bowness on Windermere, Cumbria LA23 3JH,

Coniston Water.
Boat engines must not exceed 4hp. Boats must display the 'A' flag when divers are in the water and all divers should use an SMB.

Wastwater.
Permission to dive must be obtained in advance from National Trust This area is an SSSI and is one of the Trust's 'quiet lakes', so no boats are allowed on Wastwater, nor may air compressors be used on site. The maximum number for any group should not exceed 12. Parking is limited and it may be that only one group of divers will be able to dive at any one time so book early. Warning: There have been several diving fatalities as this is a deep water site (England's deepest lake) where the lake bed slopes steeply away to extreme depth. Good buoyancy control is essential to avoid going deeper than planned. There is a gnomes' "garden" at one underwater location! This was the setting for the Lady in the Lake incident.

Ullswater.
No special permission to dive is required. However, it is advisable not to trespass over private property to gain access to the water. Boat engines are limited to 4hp maximum and SMBs should be used.
Grasmere.
Permission to dive must be obtained in advance from the National Trust

Crummock Water.
Permission to dive must be obtained in advance from the National Trust This is another 'quiet lake' so powered boats are not allowed, nor may air compressors be used on site. Parking is very limited, therefore diving parties are restricted to 12 persons at any one time. Avoid taking more than three cars. Height above sea level - 99 metres.

Hodge Close Quarry.
Between Little Langdale and Coniston road Access to the lower car park and tunnel can be obtained by paying £4.00 per car at the house with the a Flag in the garden. Warning: Several divers have lost their lives in Hodge Close Quarry, mainly as the result of getting lost in the underwater caves / tunnels. BSAC does not consider this site suitable for use by divers of less than Sports Diver qualification.




Race Meetings

Carlisle Race Course

Cartmel-steeplechases
Ski Slopes
There are small scale dry ski slopes at Kendal and Carlisle.(Carlisle Club contact no is 01228 810696)

Speedway
The Workington Comets hold regular Saturday events at Derwent Park Stadium.
Contact Workington Speedway on racedays Tel. 01900 608071 (At other times Tel. 01943 878448)



Kayaking
A wealth of rivers and lakes means the area is ideal for canoeing. Please jump to our kayaking page for full details. Including link to Copeland Canoe Club's site.



---
Lakestay home page Where to stay in the Lakes | What to do and see in the Lakes | Lakestay E mails