The brooding Screes were the only witness as the corpse that became known as the Lady of the Lake was slid into the midnight black waters of Wastwater. It was October in 1976. It would be eight years before the corpse re-emerged as amateur divers found what appeared to be a puzzling carpet bag tied to a concrete slab. The divers had half expected to find the remains of missing French hillwalker, Veronique Marre, but her body was in fact found some years later on the sharp crags that looked down on the lake.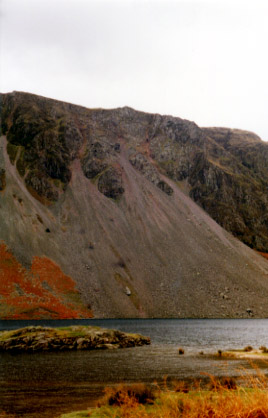 Diver Neil Pritt had first noticed the odd bundle at 110 feet depth, but thought it rubbish. Three months later in March 1984 he and friends alerted police as it became plain it was a body. The features of the corpse were said to have been "wax-like'', preserved in the icy deep waters. Six days later friends of Margaret Hogg recognised the described lady as Margaret Hogg. Within hours police were knocking at the door of Peter Hogg's home in Surrey.
He had worked as the cool headed pilot of 757 jets for Air Europe, while Margaret had been an air hostess. But their marriage had come to a stormy end and she had been involved in a three year relationship with banker, Graham Ryan, before a violent argument culminated in Peter Hogg strangling his wife. Mrs Hogg has been described by friends as "friendly and extravert", while Peter was more intoverted . The couple also had an age difference of 19 years (56...37 years respectively).Had fate had been kinder to Peter Hogg, 56, Wastwater lake would probably have kept his dark secret forever. He was arrested just six days after the discovery of the body. The police investigation in the Lakes was led by Chief Inspector Jack Taylor.
There were three things led to Hogg appearing in the dock at the Old Bailey charged with murder. Firstly he was not to know that a French student's disappearance in 1983 would spark off police and amateur diving searches of the lake's shore. Neither was he to know that had he rowed just ten yards further out into the lake that night before lowering the carpet bag shrouded corpse of his wife the weighted body would have sunk beyond normal diving depths. And lastly he had forgotten that the gold ring left on the corpse had engraved on its hidden inside face both his and his wife's initials.
But fate was sometimes smiling on Peter Hogg. After his early arraignment he was granted £ 20,000 bail, unusual for those facing a murder charge. And after an Old Bailey jury found him guilty of manslaughter, and not murder he was jailed for a mere four years. Serving three years in an open prison. The Wasdale that he went to that dark October night was well known to Peter Hogg for between 1941-45 he had been a boarder pupil at Keswick School and he returned to the Lakes several times from the south of England.
Killer tried at the Old Bailey
At the Old Bailey Peter Hogg denied murdering his wife. His counsel told the jury that Hogg was provoked for years by the "unfaithful and bad'' behaviour of his wife. He claimed Margaret Hogg "flaunted" her affair with another man. Patrick Back QC said she was "a piece of erring humanity." The tabloid press had a field day describing Mrs Hogg as a "cow" in trial reports. The QC said his client's main defence was provocation. "The law recognises that within every human being lies the fires of emotion and you can provoke a human being just so far." He said this provocation had lasted years with Mrs Hogg flaunting her affair to all and sundry. Graham Ryan, the other man in Mrs Hogg's life, told the court they had been away together in Dorset the week before Mrs Hogg died. Her return from this rural trip sparked off the fatal row.
Describing that fateful night Hogg was asked: "Had you murdered your wife?" He replied: "Murder is not the right word. Certainly she died. I think I strangled her. We had an argument, she did her usual act, she was always throwing things at me." Describing the row he said: "She was scratching my face, kicking me in the crotch and I belted her. She flew at me hitting and kicking , then I grabbed her round the neck and squeezed hard. I realised one of her eyes had glazed and I let go. She fell back on the floor and I realised she was dead." Hogg was described in court as "cool and calculating" in the minutes after the strangling. He changed his clothes and trussed up the body before working out how to dispose of it.
Describing his drive north and rowing an inflatable boat out onto the pitch black lake he said: "It was the longest night of my life. You don't realise how difficult it was. I nearly went in with her." He told the court: "I was in a perfectly logical frame of mind once I had recovered from my original horror. Possibly after my 30 years training I put my mind to dealing with the current emergency." Thus he reported his wife as missing to Surrey police a month later. It took the jury just over an hour to find Hogg not guilty of murder. He was jailed for three years for manslaughter and another year was added for obstructing a coroner and to perjury in divorce proceedings.
Wastwater's French Connection
It was a slightly misty August morning and the Wasdale Youth Hostel had its usual rush of fellwalkers and visitors packing up and setting off after breakfast. Among those leaving was a well built 21 year old French girl, Veronique Mireille Marre. She had only passable knowledge of English, but years of walking in the French Alps had made her well able to cope with a walking tour in the Lake District.
Yet Veronique never reached her planned destination of Coniston that evening. And within days her anxious parents were telephoning the authorities in England. Despite an extensive search of the mountain paths between Wasdale and Grasmere Veronique vanished without trace. Her disappearance and the subsequent search of both the hills and the shores of Wastwater somehow came to link the two deaths with the lake. Police and tracker dogs spread out over the boulder fields that make the awe inspiring rock slide of the Screes.
But no trace of the young woman was found. It was a further two years of soul destroying uncertainty for her parents in Paris before a 53 year old Sellafield engineer stumbled on the sad resting place of Veronique. Mike Parkin, who lived in lower Wasdale was rock scrambling one May afternoon among the boulder field when he found some clothing. "Most had rotted away but there was enough to indicate it belonged to a girl and there were some French marked labels. "I went a little further up a side gully and saw the rest of her belongings and remains. I realised then what it was and went for the police.'' The remains were 1,100 feet above the dark lake waters at the foot of a 300 foot rock spur known prophetically as Broken Rib Crag. An inquest afterwards heard that the state of the few remains meant a cause of death could not be officially given, but the remains were consistent with a fall from height. Veronique's discovery came just two months after the fate of the other body in Wasdale was the subject of the Old Bailey trial of Peter Hogg.

The other Lady in the Lake Tragedies

*In 1998 Mrs Carol Park's body was found at the bottom of Coniston Water after she too had been killed in a savage attack in 1976 and then disposed of. The mother-of-three's husband Gordon Park, 54, was later charged with murder but then freed as police dropped the case against him. Park, a 63-year-old former teacher, has always protested his innocence and his lawyers say they now have fresh evidence to support his case.
Convicted in January 2005, Park was jailed after the prosecution argued that he had bludgeoned his wife Carol to death in 1976 and then dumped her body in Coniston Water. He protested his innocence. Park was found hanging in his cell at HMP Garth, Leyland, Lancashire on January 25 2010 - his 66th birthday.
*Sheena Owlitt's body was found in Crummock Water in 1988. It was weighted down with an engine block and had only been in the lake for three weeks when discovered by amateur divers. Sheena's fingerprints helped in tracing her identity. When police interviewed her husband Kevin they found blood stains in an upstairs room and their home in Leeds and it was not long before Owlitt confessed and was jailed for life.


Copyright: Lakestay.