CANOE AND KAYAKING IN THE LAKES
The English Lakes are blessed with excellent lake and white water canoe venues. Generally estuaries and Lakes Windermere, Coniston, Derwentwater, Ullswater and Bassenthwaite are regularly used by canoeists.



Joe Stalker shoots the rapids

Disclaimer: Rivers and lakes are potentially dangerous to all paddlers. Any information given below is only offered to assist, you are responsible for your own safety on the water...To check on avoiding concerns with local anglers please check with North West Water.....that aside, happy paddling!
River Eden Between Lazonby and Armathwaite weir the BCU has an agreement with local owners and anglers over strictly controlled access for canoes. The five mile stretch features grade 2 and one grade 3 section (Nunnery rapids). It features exciting white water as the river cuts through a sandstone gorge. The following rules apply:
April 1 to April 15 No canoeing.
April 16 to May 31 No canoeing except in spate (When river is above three feet at Lazonby bridge.)
June 1 to August 31: Canoeing on weekdays and 1st and 3rd weekends (Saturday being the governing date) Launching from 1200 hours to 1500 hours. Canoeists must clear the river by 1700 hours. Sept 1 to October 15 no canoeing except in spate.
October 16 to March 31 Canoeing can take place provided bookings made and conditions met. No landing except in emergency. Access point car park at Lazonby bridge. Egress left bank just above Armathwaite weir where small stream joins Eden. Follow red marked signs behind building, over stile and alongside fence. Head for iron gate to road. Stick strictly to path. You must be a BCU member or affiliate and have BCU numbers on canoe. Also you must write to local access officer (check with BCU website on this). No commercial canoeing activity allowed.Info 2007 about Eden River Trust.

Cumbrian Canoe shop just North of Carlisle: at http://www.borderkayaks.co.uk/

River Brathay The Brathay runs approx. 4 kms from Elterwater to Lake Windermere. Be warned however that canoeists have lost their lives at Skelwith Force. Feeding into the Brathay is Great Langdale beck. Best entry point for the Brathay is at the bottom of Grt. Langdale Beck in Elterwater village. But remember to get out and portage around Skelwith Force. There are occasional grade 3 sections. Because gunpowder was transported down the Brathay from Elterwater to Ambleside the Brathay can therefore be argued to be legally a public highway, open to canoeists. The stretch from Skelwith to Windermere is extremely popular.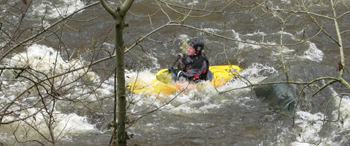 River Greta (Pictured left) From St Johns in Vale through and just past Keswick the Greta is graded 2 to 3 but many boulders mean river really needs to be tackled after rain.
River Crake The Crake was used to transport slates down to Greenodd and can thus boast a historic public highway right of passage.
Most is grade 2 with some grade 3. Access at Brown Howe on west side of Coniston Water. Below Bouthray bridge are the first testing rapids. There is a weir at the start. Many rocks means little chance to stop. There is a small weir at the end with a grade 2 stopper. Onward to Lowick are a couple of weirs. Be warned...Below Lowick the river speeds up and passes left of islands. There is then a weir with rocks at the bottom which takes a deal of care. Spark Bridge has limited headroom and may be the best place to exit. Leaflet with guidance for canoes on Coniston 2012.
River Cocker Runs approx. 11 kms from Crummock to Cockermouth. Basically grade 2 with hints of grade 3 and a surprise drop below Harris Park. Overhanging branches can be an irritant. Handy exit where meets River Derwent by Jennings Brewery!
Upper Derwent in Borrowdale is popular but only generally caoeable from the point where Stonethwaite Beck joins Derwent.
Lower Derwent:There is an agreement (2010)between the BCU and local owners and quangoes such as E Agency that states access for canoes only between November 1 and May31 and river levels above red markers on gauges.(pictured)(But such agreements have no bearing on common law navigation rights that may exist anyway.)
River Duddon The river is registered as a Common for the taking of gravel for building work and thus clears the way for use of the river for 'lawful recreation.'
The Duddon is grade 3 with some four and five. Grades 5 at Wallowbarrow Gorge and at Troutal Farm. Best to stick with the more manageable lower Duddon, below Dunnerdale bridge. The local club is http://www.duddoncanoeclub.org.uk/
River Esk(Cumbrian)Has so many boulders it can only be tackled after heavy rain. Lower tidal reaches can be visited from Ravenglass foreshore.
River Leven Drains out of Windermere and is grade 3. The falls at Backbarrow bridge should be avoided and care is needed under the A590 roadbridge.
River Lune Access generally good in the upper river in the salmon closed season. From Tebay to Kirkby Lonsdale is grade 2-3. The Tebay gorge has touches of grade 4. Two weirs just south of Sedbergh require caution.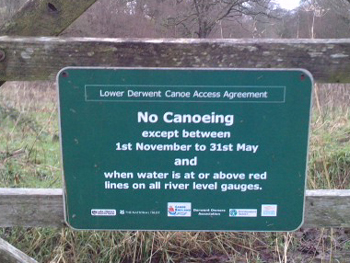 River Mint Only canoeable from Patton bridge unless there has been a spell of heavy rain. grade3 with some grade 4. Weirs and overhanging trees make it challenging.
River Rothay grade 2. 6 kms. Meanders through Wordsworth territory and is popular with novices.
River Sprint8 kms. Grade 4 in places. Very exciting. five difficult sections and many rapids. At Cocks Close is a dangerous switchback. Slightly easier to cope if start from Garnett Bridge. Sprint Mill falls are awkward.
Troutbeck grades three and four to Troutbeck bridge. Below bridge only grade 2. Only passable after heavy rain. But paddlers must be ready to react quickly. A pipebridge carrying Manchester's water needs inspection. Weir below Troutbeck bridge.
N.B. The above notes are only for general guidance and you must inspect first, take local advice and if in any doubt err on the side of caution. Always observe safety rules including wearing buoyancy aids and never canoe alone. Sharing the Lake District rivers with anglers and other users can mean care is needed over access issues. This means that to be absolutely certain it is wisest to check with BCU (British Canoe Union) regional access officer.
Recommended for more detail on all the rivers in and around the Lake District is 'Rivers of Cumbria' published by Cordee ISBN 1 871890365. or this book by Stuart Miller at www.riverspublishing.co.uk/lake-district/
Access to rivers issue reaches Parliament (2007)
MPs discussed in March 2007 whether to change the law to extend the principle won by ramblers to the waterways, giving canoeists a legal right of access for unpowered craft to thousands of miles of rivers and canals across England and Wales. Anglers say they pay a lot of money to use the rivers and argue that careless canoeists, who pay nothing, may damage shallow spawning beds.
USEFUL WEB LINKS
Mother of all sites the British Canoe Union: http://www.bcu.org.uk/

Canoe Hire around Derwentwater can be obtained at Nicholend Marine. Tel. 01768773082.


Regional Links


Lakeland Canoe Club based in Kendal.

Cumbrian Canoe Clubs
Cumbrian clubs for all grades of paddlers!


Some good pictures and info can also be found at Carlisle Canoe Club's web site

Full details of the Teeside white water course Teeside white water web site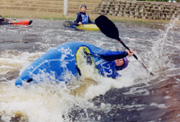 The Duke of Edinburgh Award Web Site: http://www.theaward.org
The English Sports Council http://www.english.sports.gov.uk
Scottish Canoe Association: http://www.scot-canoe.org/
Welsh Canoeing Association: http://www-welsh.canoeing.org.uk

Check out the best triathlon wetsuit reviews to help you decide what to gear up during training or taking the plunge in long distance swimming competition.

Any suggestions on the canoe info on this page / comments/contributions etc E mail us



---
Home page | Where to stay in the Lakes | What to do and see in the Lakes | Lakestay E mails

Copyright © Lakestay All rights reserved, except for rotating canoe giff courtesy of graphics/animations from Dream Artists