The Lakes District in the north-western corner of England is a mountainous and lake filled adventure. The New England states of America are very similar to the Lakes District, albeit a much bigger version. New England, comprised of Vermont, New Hampshire, Connecticut, Rhode Island, Massachusetts and Maine is found in the north-eastern extension of the United States. Like the Lakes District, New England is strewn with mountains, lakes and charming villages.
Outdoor Activities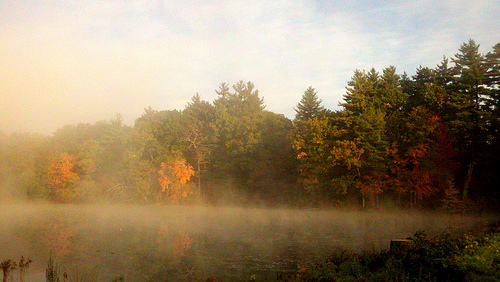 Both the UK Lakes District and the American New England regions offer much in the way of outdoor sports and activities. Both regions have year-round, four-season fun. Canoe, kayak, trek, hike, backpack in either region. One thing New England has more of is a variety and abundance of wildlife. Black bear, moose, deer, fox, coyote, and otters are among the terrestrial wildlife found throughout the American New England states, particularly in the remote state of Maine. Expect to see stag, fox and a myriad of water fowl in the Lakes District.
New England gets fierce winters, making conditions prime for winter sports like downhill and cross country skiing, snowmobiling and snowshoeing. The Lakes District does not see near as much snow as many portions of New England, making the American region a top choice for those seeking winter time fun. Sugarloaf Mountain in Maine, or in Stowe, Vermont, expect average winter temperatures around minus 4 or 5 Celsius. Winds can bring this down even further, so bring plenty of warm clothing and extra layers.
Autumn
Both the Lakes District and the New England mountains and forests come alive during the autumn. Both are covered in dense, boreal hardwood forests that change colours when the cooler temperatures of autumn descend upon the land. Expect to see brilliant reds, oranges, yellows and purple shaded leaves. Due to the far northern latitude of the Lakes District, much of the colour change takes place throughout the low resting brush and scrub alder.
One of the most charming things to do in New England during autumn is touring the small country roads, stopping at the small apple cider and pie stands, sampling the local fare. Like the Lakes District, the people of New England are open and warm, generously welcoming visitors to the beautiful region they call home.
Travel
Obviously, flights to the Lakes District within the UK are a bit less expensive than those heading across the pond to America. However, with some pre-planning, budget flights to Burlington, Vermont or Boston, Massachusetts are easily found and booked. These cities are logical jump-off points for explorations into New England. Boston is the largest New England city and has car hires, lodging of all sorts and makes a central "home base" for a New England travel adventure.
Either the Lake District or the American New England region is a worthy holiday destination, and both are certainly memory makers for any adventurers taking the trip.

Advertiser Sponsored