Herdwick Sheep
Tales that the tough grey Herdwick breed of sheep came from shipwrecked galleons from the Spanish Armada may or may not have a grain of truth to them.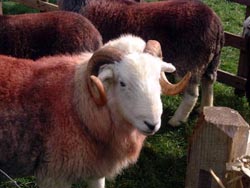 But for certain the word Herdwick means sheep pasture and can be traced back to the 12th century. There original strengths were for the producton of wool, one of the staple soruces of England's early wealth. Hence the Woolsack in Parliament. In fact herdwick wool is a tough wiry wool that if the fingers can bear to knit, creates a garment that repels rain and outlasts many softer fabrics.
The Herdwick sheep remember their own heaf or area of the fellside that is their native home. Any strays were returned at each year's dale shows.
Latest 2013: Herdwick sheep have been given protected status by the European Union. The Protected Designation of Origin (PDO) stamp means meat can only be described as Lakeland Herdwick if it comes from the herdwick breed and was born, raised and slaughtered in Cumbria. It puts Lakeland Herdwick meat in the same bracket as Champagne, Parma ham and Gorgonzola cheese.
As in many other mountainous areas of Europe the fell sheep are traditionally left out on their high grazing through the lean winters. In April the mothering ewes and their lambs are brought down to the beteer lowland field (in bye) In July-August all sheep are clipped. In September the Ewes are returned to the upper fells. Gimmer (or first year lambs) are allowed to winter on the lowlands and next year back onto their future upland heafs.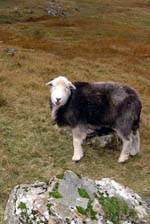 Herdwicks are slow growing sheep with a low lambing average compared with lowland breeds.
This and their free ranging grazing gives the meat a stronger tasting quality.
These days the commercial value of wool is negligible and the high quality of the Herdwick meat is the strongest value to the Cumbrian farmer. (Although Pike Side Farm in Ulpha is promoting unique rugs and covers made from the Herdwick's tough wool. cumbrian.wool@virgin.net)
The National Trust owns over 90 farms in the North West. Many have flocks of Herdwicks roaming their own heafs on the fells.
Rough Fell Sheep website....

At Cockermouth Auction in October 2000 a new world record of £3,517 was paid by a bidder for a two year old Herdwick Ram sold by Mark Potter from Matterdale. Buyers from all over England were at the auction under auspices of the Association. One noted fell farmer experienced in raising Herdwicks is Wasdale fell running star Jos Naylor.

Many benefit from ESA (Environmentally Sensitove Area) tier two managed habitat payments or Countryside Stewardship payments. Illustrating the need to diversify to maintain the fell farms,NT tenants Joe and Hazel Relphs at Yew Tree Farm, Rosthwaite in Borrowdale sell vacuum packed herdwick joints, sausages and Herdi burgers either to take away or to eat at their Flock-In tearooms. The majority of fell farms are owned by the National Trust, including those left to the Trust by Beatrix Potter (Real name Mrs Heelis) She was a keen supporter of the breed and just before her death in 1942 she played a role in the Herdwick Speed Breeders' Association. She helped save the breed.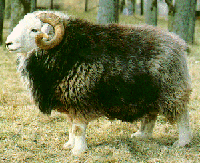 In 1923 Troutbeck Park Farm came up for sale. This large sheep farm of 1900 acres was spectacularly sited on the lower slopes of Kirkstone Pass. It was under threat of development and Beatrix Potter was keen to keep the farm together as working unit, so she bought it. Three years after she bought it, she decided to run the farm herself, with the aid of a shepherd, Tom Storey. They built up a celebrated flock of Herdwick sheep, a breed of small hardy sheep with course dark wool which is indiginous to the Lake District. Even in the 1920's they were a breed under threat as more and more farmers bred other breads of sheep with softer fleeces and more productive lambs.
In November 2000 Sotherby's auctioned off a series of letters from Beatrix Potter to her loyal shepherd Joseph Moscrop written between 1926 amd 1943 chronicling the upkeep of Herdwicks at her Troutbeck Farm. There were 52,000 Herdwicks on National Trust owned fell farms in Cunbria in 2001.
One Lakeland shepherd posts his daily tasks on Twitter...check it out at @herdyshepherd1
---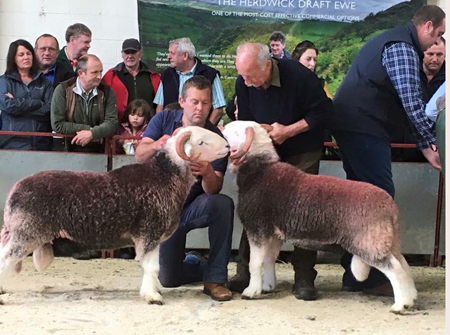 At a recent auction the Herdwick tup (ram) on the left was bought be a Belgian dealer and promptly nicknamed 'Brexit'. Pic by Herdyshepherd1 on his twitter account. Sheep farmers have had boost from the drop in the pound, but Brexit could spell trouble ahead as 95% of their exports go to EU...what lies ahead?




National Trust under Fire
This message posted on FB by the Herdwick Sheep Breeders Assoc.28/8/2016 : Thorneythwaite Farm Borrowdale is no more thanks to the National Trust coming straight in with a bid of £950,000 for the fell land at the recent auction. This blocked local farmers from any chance of buying the farm as a whole. The farmhouse was subsequently sold separately. There are 413 hefted Herdwicks now left on the fell without shepherd. Another farm lost. Hopes that the farm could be taken on by a new young fell farmer have been dashed. Another blow to the community of Borrowdale. SHAME on the National Trust
The Trust does not own the land until October 14. In the meantime, the Trust said, the flock of sheep are still the responsibility of the local tenant. After that date they said they would talk to other agricultural tenants from Borrowdale about helping to manage them. More....

As the 2001 Foot and Mouth virus swept though North Cumbria there was much speculation on the future of the hefted sheep flocks. Author Graham Harvey in his book "The Killing of the Countryside" stated that the taxpayers were paying a huge price to subsidise the fell flocks. He said: "for the typical Herdwick Lakeland flock of 1,000 Herdwick ewes the total charge to the public purse adds up to £30,000 for producing 'crop' of just 250 lambs.''
The Curse

Giving an idea of the groundswell of anger felt by the farming community over Foot and Mouth was the following: Richard Mawdsley of Bassenthwaite wrote this Letter to the
Cumberland News - 9 October 2001 -
"Re the cursing stone in Carlisle Millennium subway.The Bishop of Carlisle wants the Archbishop of Glasgow to lift the old curse. Why? It was originally called down for the protection of all the people of the
English and Scottish West marches from the depredations of the reivers.
I say that curse should be strengthened and invoked upon those who, over the last eight months, have destroyed and continue to blight not only the livelihoods, but the whole way of life of this region; flocks and herds
carried off and destroyed, other businesses bankrupted or brought to the
edge of ruin, good people reduced to ill health, despair and even suicide.
No, not the reivers, but those we should have been able to trust, our own
government and its agents. Those who have told and continue to tell us so many lies and half truths to justify their actions, those who bullied and
browbeat, behaving with insensitivity and callousness to both man and beast and who's deeds went beyond the law and yet who sheltered behind that law and those who could have helped, yet turned their backs. I curse them all.... ".........I curse them waking, I curse them sleeping, I curse them standing, I curse them lying, I curse them eating, I curse them drinking, ......" Let God have mercy on them, for I feel little. Long may they live with the memories of what they have done.
It must always be remembered that in this country we are governed and
policed by consent. When trust and respect are lost, then that consent may be withheld."
But as in all things there were winners and loosers...one Cumbrian farmer received £3.6 million in compensation for the slaughter of livestock. The payout total was £413 million to 4,314 Cumbrian farmers. Thirty farms gained over £1 million each.

For more information about the breed contact Amanda Carson, secretary of the Herdwick Sheep Breeders at: The Old Stables
Redhills
Penrith
Cumbria CA11 0DT
Tel: 01768 869533


See how much a champion Herdwick fetches at this Longtown auction...


Back to Lakestay home page
---
Where to stay in the Lakes
|
What to do and see in the Lakes
|
Lakestay E mails