Abacourt House 26 Stranger Street Keswick CA12 5JU Tel 017687 72967
Acorn House Hotel Ambleside Road Keswick CA12 4DL Tel 017687 72553
Allerdale House 1 Eskin Street Keswick CA12 4DH Tel 017687 73891
The Anchorage 14 Ambleside Road Keswick CA12 4DL Tel 017687 72813
Anworth House 27 Eskin Street Keswick CA12 4DQ Tel 017687 72923
Applethwaite Country House Hotel Applethwaite Underskiddaw Keswick CA12 4PL Tel 017687 72413
Avondale Guest House 20 Southey Street Keswick CA12 4EF Tel 017687 72735

Beckside 5 Wordsworth Street Keswick CA12 4HU Tel 017687 73093
Beckstones Farm Thornthwaite Keswick CA12 5SQ Tel 017687 78510
Berkeley Guest House The Heads Keswick CA12 5ER Tel 017687 74222
Bonshaw 20 Eskin Street Keswick CA12 4DG Tel 017687 73084
Bowfell Guest House Chestnut Hill Keswick CA12 4LR Tel 017687 74859
Braemar 21 Eskin Street Keswick CA12 4DQ Tel 017687 73743
Brierholme 21 Bank Street Keswick CA12 5JZ Tel 017687 72938
Carrock Cottages, Carrock House, Hutton Roof, Penrith CA11 0XY Tel: 01768 484111
The Cartwheel 5 Blencathra Street Keswick CA12 4HW Tel 017687 73182
Castle Inn Hotel Bassenthwaite Near Keswick CA12 4RG Tel 017687 76401
Charnwood Guest House 6 Eskin Street Keswick CA12 4DH Tel 017687 74111
Chaucer House Hotel Derwentwater Place Keswick CA12 4DR Tel 017687 72318/73223
Clarence House 14 Eskin Street Keswick CA12 4DQ Tel 017687 73186
Craglands Penrith Road Keswick CA12 4LJ Tel 017687 74406
Crow Park Hotel The Heads Keswick CA12 4DR Tel 017687 72208
Cumbria Hotel 1 Derwentwater Place Ambleside Road Keswick CA12 4DR Tel 017687 73171
Dale Head Hall Lakeside Hotel Lake Thirlmere Keswick CA12 4TN Tel 017687 72478
Dalegarth House Country Hotel Portinsacle Keswick CA12 5RQ Tel 017687 72817
Daleview Hotel Lake Road Keswick CA12 5DQ Tel 017687 72666

Derwent Cottage Portinscale Keswick CA12 5RF Tel 017687 74838
Derwentdale Guest House 8 Blencathra Street Keswick CA12 4HP Tel 017687 74187
Derwentwater Hotel Portinscale Keswick CA12 5RE Tel 017687 72538
Dolly Waggon Guest House 17 Helvellyn Street Keswick CA12 4EN Tel 017687 73593
Elm Tree Lodge Guest House, 16 Leonard Street, Keswick. Tel 017687 71050
Edwardene Hotel 26 Southey Street Keswick CA12 4EF Tel 017687 73824
Foye House 23 Eskin Street Keswick CA12 4DQ Tel 017687 73228
Grange Country House Manor Brow Keswick CA12 4BA Tel 017687 72500
Greystones Ambleside Road Keswick CA12 4DP Tel 017687 73108
Hazledene Hotel The Heads Keswick CA12 5ER Tel 017687 72106/72750
Hedgehog Hill,18, Blencathra Street KeswickCA12 4HP Telephone: 01768780654.
High Side Farm Embleton Cockermouth CA13 9TN Tel 017687 76893
Highfields Hotel The Heads Keswick CA12 5ER Tel 017687 72508
Horse and Farrier Inn, Threlkeld.
Howe Keld Lakeland Hotel 5-7 The Heads Keswick CA12 5ES Tel 017687 72417
Hunters Way Guest House 4 Eskin Street Keswick CA12 4DH Tel 017687 72324
Kinniside Guest House Telephone 017687 72415 .
Kings Arms Hotel Main Street Keswick CA12 5BL Tel 017687 72083
The Kings Head Hotel Thirlspot Near Keswick CA12 4TN Freephone 0500 600725
Lairbeck Hotel Vicarage Hill Keswick CA12 5QB Tel 017687 73373 Latrigg House St Herbert Street Keswick CA12 4DF Tel 017687 73068
Lincoln Guest House, Keswick – www.lincolnguesthouse.com
Lindisfarne 21 Church Street Keswick CA12 4DX Tel 017687 73218
Linnett Hill Hotel 4 Penrith Road Keswick CA12 4HF Tel 017687 73109
Littletown Farm Newlands Keswick CA12 5TU Tel 017687 78353
Lynwood Hotel 12 Ambleside Road Keswick CA12 4DL Tel 017687 72081
Lynwood House 35 Helvellyn Street Keswick CA12 4EP Tel 017687 72398
Lyzzick Hall Hotel Underskiddaw Keswick CA12 4PY Tel 017687 72277
Middle Ruddings Country Inn & Restaurant Braithwaite Keswick CA12 5RY Tel 017687 78436
The Paddock Guest House Wordsworth Street Keswick CA12 4HU Tel 017687 72510
Parkfield No Smoking Guest House The Heads Keswick CA12 5ES Tel 017687 72328


The Pheasant Inn, Bassenthwaite Lake, Cockermouth
Cumbria. CA13 9YE. Tel: +44 (0) 17687 76234

Rattle Beck Cottage, Seatoller, Borrowdale
Ravenstone Hotel Near Keswick CA12 4QG Tel 017687 76240
Ravenstone Lodge Bassenthwaite Keswick CA12 4QG Tel 017687 76629
Ravensworth Hotel 29 Station Street Keswick CA12 5HH Tel 017687 72476
Richmond House Eskin Street Keswick CA12 4DG Tel 017687 73965
Rickerby Grange Portinscale Keswick CA12 4DG Tel 017687 72344
Sally Cottages (self catering options based in Keswick for the Lakes.
Seymour House 36 Lake Road Keswick CA12 5DQ Tel 017687 72764
Skiddaw Grove Vicarage Hill Keswick CA12 5QB Tel 017687 73324
Skiddaw Hotel Main Street Keswick CA12 5BN Tel 017687 72071
Stonegarth Guest House 2 Eskin Street Keswick CA12 4DH Tel 017687 72436
Strathmore Guest House 8 St Johns Terrace Keswick CA12 4DP Tel 017687 72584
Sunnyside Guest House 25 Southey Street Keswick CA12 4EF Tel 017687 72446
Swinside Inn Newlands Valley Keswick CA12 5UE Tel 017687 72948
Tarn Hows Guest House 3-5 Eskin Street Keswick CA12 4DH Tel 017687 73217
Thornthwaite Hall Thornthwaite Near Keswick CA12 5SA Tel 017687 78424
West View Guest House The Heads Keswick CA12 5ES Tel 017687 73638
Borrowdale Gates Country House Hotel Grange-in-Borrowdale Keswick CA12 5UQ Tel 017687 77204
Derwent House Borrowdale Keswick CA12 5UY Tel 017687 77658
Greenbank Country House Hotel Borrowdale Keswick CA12 5UY Tel 017687 77215
Hazel Bank Rosthwaite Borrowdale Keswick CA12 5XB Tel 017687 77248
The Leathes Head Borrowdale CA12 5UY Tel 017687 77247
Mary Mount Hotel Borrowdale Near Keswick CA12 5UU TEl 017687 77223
Royal Oak Hotel Rosthwaite Keswick CA12 5XB Tel 017687 77214
Seatoller House Borrowdale Keswick CA12 5XN Tel 017687 77218




A taste of the fells around Keswick
Attractions
Allerdale Borough Council has announced (June 18, 2021) that Keswick Spa pool will close permanently.

Latest 2018: Cycleway between Keswick and Threlkeld broken by bridges destroyed by floods. But In December 2017 the LDNPA announce a major funding boost to the project – a £2.5 million grant from Highways England and a partnership with the Lake District Foundation to jointly fundraise the shortfall of around £3 million. For more information on the Keswick to Threlkeld Railway Path visit lakedistrictfoundation.org/donate-now/reconnectK2T
More info...

Keswick Museum...Station Road alongside Fitz Park. Entry free..closed Mondays.

Theatre by the Lake.

Mirehouse historic house (Two miles by road) Opens April to October.

Pencil Museum, Short walk at Southey Works.

Keswick Launch runs a roundtrip, 50-minute ferry service around Derwent Water. The boats depart from their dock, just a few minutes walk from Keswick. www.keswick-launch.co.uk

Keswick Convention: A report on what the Convention means.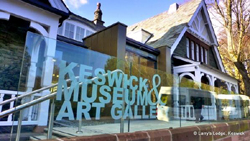 Keswick Museum


Keswick Climbing wall: Southey Hill Trading Estate.Telephone: 017687 72000.

Keswick org / /The Borrowdale Wad mines / / Cockermouth.org.uk / Sunday stroll to a Hidden Tarn / CaldbeckVillage site /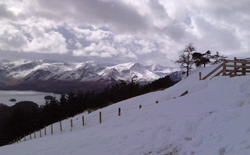 Events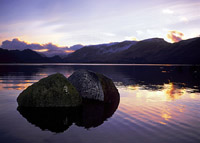 The big festival circuit really kicks off with the Keswick Film festival in February (16th to 19th February 2017
www.keswickfilmfestival.org ). As usual there will be more than 30 films over four days showing at the cosy traditional style picture palace of the Alhambra and also at the Theatre by the Lake. Film Fest website.

The following month the Theatre by the Lake will be the main hub for 'Words by the Water', the Cumbrian Literature Festival. in March each year. Words by the Water site Speakers from the worlds of literature, politics, radio and tv assemble on the shores of Derwentwater to share books, words and ideas.

As warmer weather hopefully arrives in May, we see first the Jennings Keswick Jazz Festival www.keswickjazzfestival.co.ukrunning in the Theatre by the Lake and pubs and venues around the town . The programme will comprise over 100 jazz events hosted by a dozen different venues, all covered by the festival's five-day pass.
The Keswick Mountain Festival runs in May.There will be a full lecture programme as well as the Adventure Base. Keswick Mountain Festival May 15-18 2014...http://www.keswickmountainfestival.co.uk/
The Keswick Beer Festival is a very popular event and has rapidly become the largest in the North of England. Late summer is the time for the local agricultural shows including Keswick, Buttermere, Borrowdale, Loweswater and Hesket Newmarket

Tuesdays throughout June and July; 7.30pm Street theatre outside Moot Hall.
July 11-31 Keswick Christian Convention; www.keswickministries.org
August first week; Bassenthwaite Sailing Club Regatta.
August 31 Keswick Show; www.keswickshow.co.uk

Other Lakeland Events

---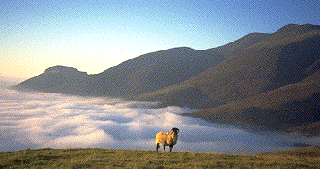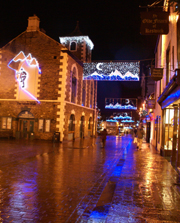 Keswick at Xmas