Not far off the busy throb of the A66 is a gentle fell walk around the back of the huge bulk of Blencathra. After leaving the A66 signposted to Mungrisedale motorists should continue on to the next cluster of lakeland cottages at Bowsacel. On the left is signposted the bridleway to Bowscales Tarn. According to Wainwright this pleasant hike was very popular on the Victorian grand tour of the Lakes.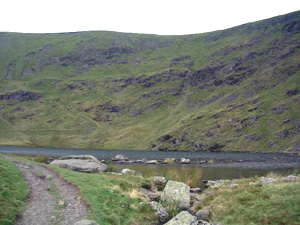 The track rises gently up the left flank of the Caldew valley (Known as Mosedale). About a mile further on the grade rises and climbs up to an acient morraine that heralds the dramtic appearance of Bowscales Tarn. Like so many glacial gouged hollows from the last Ice Age it is north facing and rest below the craggy outcrops of Bowsacel Fell. A further zig zag haul can take you on to the 1550 feet summit. But many take the leisurly Victorian option of a picnic by the tarn! Wordsworth made reference to the anecdotal tale of "two immortal fish" living in the dark a moody tarn.
For those in need of refreshments there is a popular inn in nearby Mungrisedale.




Other suggested walks:
Buttermere
Bow Tarn
High Street
Grasmere
Greengable
Whitbarrow
East of Eden