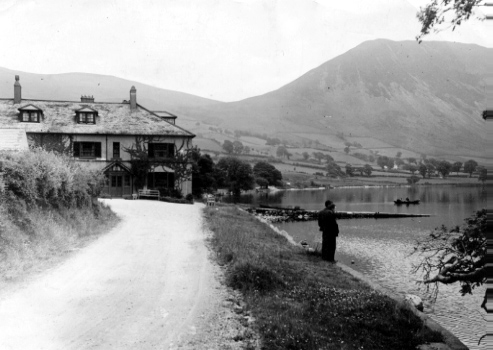 The Sad Loss of the Anglers Inn
Since 1864 Ennerdale Lake has been used as a water supply for West Cumbria and in 1902 a shallow weir was added to what is probably a glacial moraine to maintained the level at 112.3 metres AOD.
In 1960 it was planned (£700.000 scheme) to raise the lake level by 4.5 feet to get an extra six million gallons a day. This would have drowned the Anglers Inn that enjoyed a hauntingly atmospheric location right on the lake shore. The Anglers Hotel was owned by first Whitehaven Corporation and then South Cumberland Water Board. But it was an untidy aside from the business of piped water and everyone accepted In the sixties(including the nearby landowners,the National Trust) that it had to be demolished for the sake of "progress".
Thus it was that round 1961 the Anglers was demolished and now just the remnants of its jetty and discarded Victorian beer bottles can be seen at times of serious drought.
In 1980 North West Water again tried to raise the level of the lake by four feet , but after protests and what became known as The Two Lakes Inquiry in 1981 Michael Heseltine refuse planning consent. Fortunately a correct decision with hindsight because neither the chemical works at Whitehaven nor BNFL Sellafield really ended up needing the extra water justifying the bid.
So the Anglers Inn was demolished needlessly....still it would probably now have had a huge car park and chicken in the baskets by the cartload!
A new water treatment works was opened at Ennerdale in 1995 at cost of £13.5 million. It featured a six foot diameter tunnel dug out under the lake by divers tunneling from below in pressurised conditions.
Another valley that was flooded was Mardale